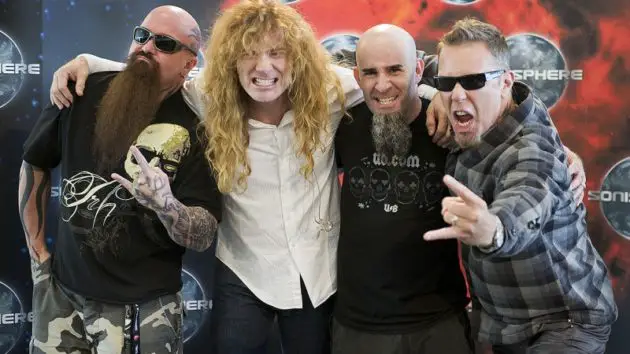 In a new interview with Graspop Metal Meeting, ANTHRAX bassist Frank Bello spoke about whether ANTHRAX would be interested in playing more "Big Four" shows before SLAYER completes its farewell tour.
He said: "That was a very special [thing]. I hope the 'Big Four' happens again. We're seeing so many people from the next generation that didn't get to see that, and they see the DVD of it, and they say, "When are you gonna do it again?' And I say, 'You have to talk to METALLICA. I would love to do it.'"
According to Bello, SLAYER's impending retirement should not necessarily prevent the legendary California thrashers from taking part in more "Big Four" shows if the opportunity were presented to them.
"I think if you ring up my friends in SLAYER [and tell them], 'We're doing the 'Big Four," I think they'd play some shows," he said. "I think they would work it out. I think [they would come out of retirement for it]. The 'Big Four' is special enough that we all rise to it. I would hope they would do that. I mean, I would certainly try to talk them into it."
This past December, during an appearance on "Trunk Nation LA Invasion: Live From The Rainbow Bar & Grill" on SiriusXM, Dave Mustaine was asked if MEGADETH and other bands (METALLICA, ANTHRAX) would be interested in playing more Big Four shows before SLAYER completes its farewell tour. He pointed out that there should be another Big Four show in San Francisco Bay Area where scene primarily started.
Mustaine said: "I think everybody in the metal community wants to see that, with SLAYER going away. Although, fortunately, with the attention that they're getting, they're not [going away yet] — there's so much attention for them that they continue to play, which is great for us. But I think that before they retire, there should be another 'Big Four' show. And since the scene primarily started in the [San Francisco] Bay Area, I think it should be done in the Bay Area or here [in Los Angeles]. To me, it's just not right. I think there should be at least one more."
Asked if there was a personal highlight for him from all the "Big Four" shows that MEGADETH has played so far, Mustaine said: "No. The whole thing was great. I can't whittle it down to one thing. I do know that looking out in the audience and seeing everybody in black t-shirts before we started and then the rain started and all these rainbow-colored umbrellas opened up, it was the most beautiful thing.
"Because it went form this monochrome kind of really ugly place in Sofia, Bulgaria in the rain to just this plethora of color and just beauty, and everybody was dancing and pogoing and wheelchairs going across people's heads and stuff. They didn't let the rain bother them at all. Me, I felt like I was ice skating up there on the deck, 'cause it was really slippery."
The so-called "Big Four" of 1980s thrash metal — METALLICA, MEGADETH, SLAYER and ANTHRAX — played together for the first time in history on June 16, 2010 in front of 81,000 fans at the Sonisphere festival at Bemowo Airport in Warsaw, Poland and shared a bill again for six more shows as part of the Sonisphere series that same year.
They reunited again for several dates in 2011, including the last "Big Four" concert, which was held on September 14, 2011 at Yankee Stadium in New York City. Since then, METALLICA, SLAYER and ANTHRAX have played a number of shows together, including the 2013 Soundwave festival in Australia. They also performed at the 2014 Heavy MTL festival in Montreal, Quebec, Canada.