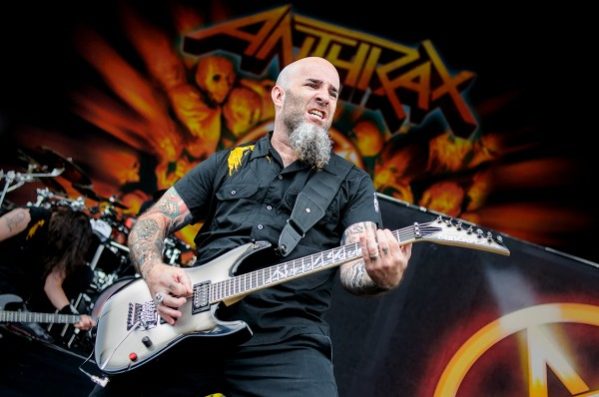 ANTHRAX guitarist Scott Ian was asked by SiriusXM whether he's ever jealous of Metallica's massive success, to which he replied (via Blabbermouth):
"Yeah, but in the way of like, you're just so happy for your bros, because I was there the day they showed up in New York City in the U-Haul truck with Dave [Mustaine], he was still in the band.
"We had the same manager [Jon Zazula] and he was, like, 'Do you mind going down to the Music Building?' which was the s**tty squat of a building in Jamaica, Queens in South Jamaica where bands could pay a couple hundred bucks and you could have a 24-by-7 [foot] room monthly. You could put all of your gear in there and literally have a place to crash when you needed to.
"That's where they were coming and that's where they were going to live as well. It's not like they had a hotel or something to come into. They were living in a squat in South Jamaica. He was like, 'Do you mind going down there and greeting them?' I was the guy, it was me and Danny Lilker, the original bass player in Anthrax. We're, like, there to meet them and they were rolling in driving a U-Haul across the country.
"They load their gear in the room and they set up and they're, like, 'Okay, where are we staying?' I'm, like, 'Jonny didn't tell you? He didn't tell you? Maybe you ought to call Jonny.' They quickly found out they were living in the Music Building. It was, like, 'Oh my God.' [I said] 'We have a fridge in our room.' We gave them our refrigerator, our toaster oven, just anything to help. We were fast friends from that point on.
"By the late '80s in '88/'89, when they were already headlining arenas, this was pre-'Black Album' on '…And Justice For All', they were already big enough to headline arenas themselves, but it hadn't gotten to that 'Black Album', stadium level.
"Even at that point, we were always like 'We are only six months behind METALLICA.' We were doing great at that point in '87/'88. We were selling seven thousand tickets, we were doing great. No complaints. Two or three gold albums already, but then you see METALLICA get to: 'All right, now they're selling out arenas instead of theaters. And they've got a platinum record.'
"Because our manager back then always used to say 'You guys are always six months behind.' It was always kind of like that. That's how it was for years from '84, '85, '86, '87, '88, then '89 rolls around, they start selling out arenas. It's like 'All right, six months is up.'
"We did an arena in New York and in Los Angeles, but what about the rest? Then they hit the 'Black Album' and boom. It's not even 60 years behind. It's just not happening. It happened for one band and that's it.
"Us, MEGADETH, SLAYER, I'm here 36 years later still talking about my band, we still get to do whatever we want. There's no complaints. But only one band was going to go to those heights."