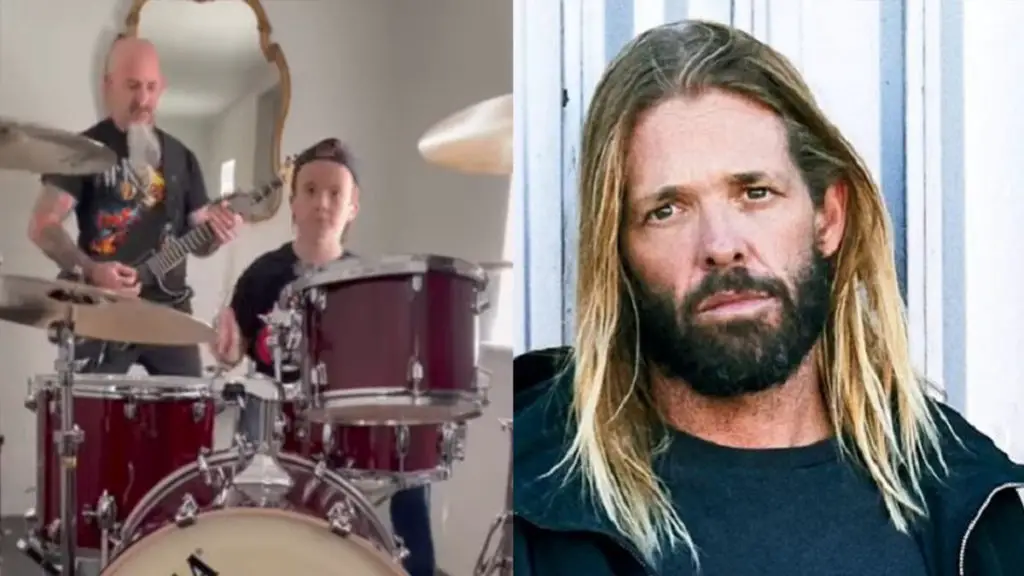 ANTHRAX guitarist Scott Ian was joined by his 10-year-old son Revel Young Ian on drums as they performed renditions of several FOO FIGHTERS songs for an Instagram video which Scott shared earlier today.
Scott wrote along with clip: "Paying tribute to Taylor…we've been jamming our favorite Foo's all week. Healing our hearts with the power of rock. We love you Taylor and Dave and Pat and Chris and Nate and Rami. @foofighters #taylorhawkins #patsmear @davestruestories @shifty71 #natemendel #ramijaffee".
Revel previously joined the FOO FIGHTERS on stage in September 2019 at the Bourbon & Beyond festival in Louisville, Kentucky to perform "Everlong" on guitar when he was just eight years old.
In a 2014 interview with Horns Up Rocks, Ian said that his then-three-old son was a big fan of METALLICA, THE BEATLES and AC/DC and that he could already tell the difference between Bon Scott's voice and that of Brian Johnson.
"He knows a lot of the stuff that he hears or sees in the house," Scott said at the time. "But what's really cool is that he actually recognizes and knows the difference between Bon Scott and Brian Johnson, which is pretty cool, I think, for an almost three-year-old. Anytime AC/DC is on, he'll go, 'That's Bon singing.' And then when it's not Bon, he'll say, 'That's not Bon singing.' He knows. That's pretty cool, I think."
Hawkins was found dead on March 25 at the Four Seasons Casa Medina hotel in Bogota, Colombia while FOO FIGHTERS were on tour.
An official cause of death for Hawkins hasn't yet been released, but Colombia's attorney general's office released a preliminary toxicology report, saying that medical examiners found evidence of 10 types of substances in Hawkins's body, including opioids, benzodiazepines, marijuana and antidepressants.
Before joining FOO FIGHTERS in 1997, Hawking was the touring drummer for Sass Jordan and Alanis Morissette, as well as the drummer in the progressive experimental band SYLVIA.
Hawkins is survived by his wife Alison, whom he married in 2005, and their three children: Oliver Shane, Annabelle and Everleigh.