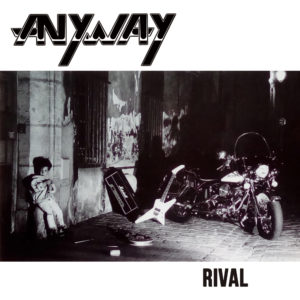 One more french classic Metal band: Anyway. Looking back to all I've heard from the series, I noticed some similarities among them all: they put melody first on vocal and guitar lines. All singers are very melodious, so are the guitar solos. There are two good examples: the opening and title track "Rival" and "Denouement – Reves Fous." Two gems of emotion and musicality.
There is another similarity among them: they all like funny mixes with other genres, most likely pop. Take "Vieux Salaud" for instance. Funky instrumentals, and a laughing chorus. We can tell that Anyway are a band of chorus, that's what we note by songs like "Conquetes," for instance. With a long guitar solo. BTW, the guitar is a highlight not only in "Conquetes," but in all "Rival." The guitar work is also amazing. But the most interesting one is the catchy and sing-along chorus of "Maudit Blues." The "Hey, hey" part works fine. There are very few bands in Heavy Metal word who were capable of recording songs like "Solitude." I mean, what is called 'heavy boogie.' I recall only the masters Saxon and Accept. And now the guys from Anyway. It means a lot, guys!
Anyway's "Rival" is a great effort for you who doesn't know anything about french Metal bands. Very skilled musicians, catchy choruses, excellent production, everything that makes a band great. Moreover, you can listen to "Rival" and actually fell some freshness in it.
Track Listing:
Rival
Face Au Monde
Maudit Blues
Mandragore
Denouement – Reves Fous
Vieux Salaud
Conquetes
Pervert
Solitude
Entre Ciel Et Terre
Mandragore (demo 1986)
SOS Parano (demo 1986)
Mini Star (demo 1986)
Mille Excuses (demo 1986)
The 500 limited copies of Anyway's "Rival" will be available for purchasing via No Remorse Records link on July 10th.
Listen to "Rival" via Soundcloud.
You can watch "Face Au Monde" here: