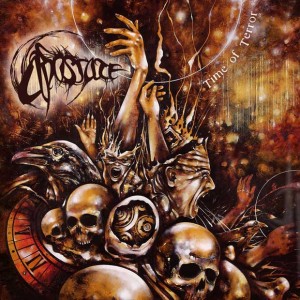 With doom metal being known for its slow and heavy guitars and brutal vocals and songs that last several minutes, Apostate hits it out of the park with their brand new album "Time of Terror". 
The crushing riffs and overall feel of brutality of this album are just all consuming that transports you back to an unprecedented era of doom metal where everything was like this and was amazing just as "Time of Terror" is.
And rest assured that while this album has only 5 tracks each one of those tracks are 9 minutes and over with the longest one being just over 13 and a half minutes of pure doom metal.
"Time of Terror" can be streamed on Bandcamp here.
Track Listing:
Solar Misconception
Pale Reflection
Pain Served Slow
Memory Eclipse
World Undying