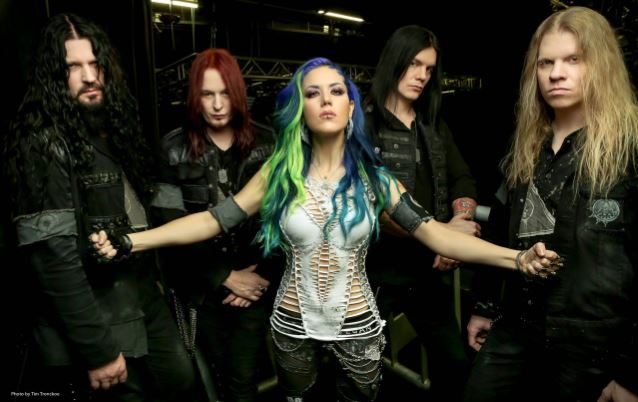 ARCH ENEMY presents a new live DVD, "As The Stages Burn"!, of their largest stage production to date from their performance last summer at the WACKEN OPEN AIR Festival in Germany. This performance marks the pinnacle of a highly successful album campaign in support of "War Eternal".
It all began in March of 2014 when the band announced new vocalist Alissa White-Gluz as well as the video for the album title track, "War Eternal". This debut track went on to become the bands most successful video in their career, surpassing 20 million views on YouTube. The release of the "War Eternal" album also saw ARCH ENEMY reaching their highest US and German chart positions to date while going on to play over 200 shows in over 40 countries around the world. In late 2014, Jeff Loomis (ex-Nevermore) joined ARCH ENEMY during the world tour with KREATOR and in 2015 they played arenas as direct support for NIGHTWISH.
The DVD highlights an impressive live production fans have never seen before! "As The Stages Burn"! is scheduled for a worldwide release through Century Media Records on March 31st, 2017. More details will be revealed shortly, stay tuned.
Go get your ticket for the exclusive release shows with special support from Lacuna Coil and The Haunted now!
30.03.2017 – Zeche, Bochum, Germany *
31.03.2017 – Hellraiser, Leipzig, Germany *
01.04.2017 – Rock in Hell, Colmar, France *
02.04.2017 – Heavy Scotland, Edinburgh, UK
04.04.2017 – Neue Stadthalle, Langen (Hessen), Germany **
05.04.2017 – Backstage Werk, München, Germany **
06.04.2017 -Saarbrücken – Garage, Germany **
07.04.2017 – Durbuy Rock Festival, Durbuy, Belgium **
08.04.2017 – Betiz Fest, Cambrai, France *
09.04.2017 -Ludwigsburg – Rockfabrik, Germany **
 * with The Haunted
** with The Haunted and Lacuna Coil
German shows presented by Metal Hammer and EMP
For ticket buy links please go to www.archenemy.net
ARCH ENEMY Festivals 2017:
02.02.2017 – 70000 Tons Of Metal – Miami, FL
06.07.2017 – Rock Harz Festival, Ballenstedt, Germany
14.07.2017 – Gefle Metal Festival , Gävle, Sweden
05.08.2017 – Ostrava v Plamenech, Ostrava, Czech Republic
10.08.2017 – Leyendas Del Rock, Villena, Spain
11.08.2017 – Vagos Metal Fest, Vagos, Portugal
12.08.2017 – Into The Grave, Leeuwarden, Netherlands