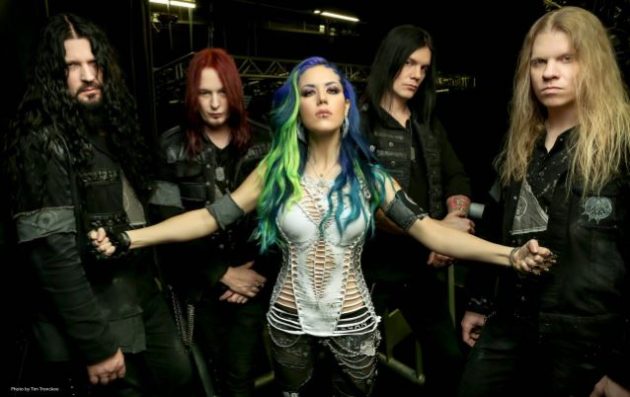 In March 2017, extreme metal giants ARCH ENEMY completed the "War Eternal" album cycle with the highly successful "As The Stages Burn!" live release, which was filmed and recorded at the band's massive headlining show at Wacken Open Air 2016.
Now, it is time for the next chapter in the band's history as ARCH ENEMY hereby announce the title and release date of their forthcoming tenth studio album, "Will To Power", with a worldwide release on September 8th, 2017 through Century Media Records and via Trooper Entertainment in Japan.
Shortly after the album's release, the "Will To Power" touring cycle will kick off with shows in Eastern Europe, Austria, Finland and Russia, to be followed by an extensive North America tour in October / November. A full European tour can be expected in early 2018. Dates will be announced soon!
Michael Amott comments: "After many months of writing and recording in the studio we are delighted to have finally completed work on our 10th studio album, 'Will To Power'. We are looking forward to sharing new music with you soon.
We are equally excited to announce the first leg of our 'Will To Power' world tour… Can't wait to play new and old songs for our fans, see you all soon!" 
"Will To Power" will be a bold sonic statement that ARCH ENEMY in this day and age is virtually unstoppable.
ARCH ENEMY @ Summer festivals 2017
06.07.2017 Rock Harz Festival, Ballenstedt, Germany
08.07.2017 Resurrection Fest, Viveiro, Spain
12.07.2017 Rockmarathon, Dunaújváros, Hungary
15.07.2017 Gefle Metal Festival, Sweden
04.08.2017 Rock Pod Kamenom Festival, Snina, Slovakia
05.08.2017 Ostrave v Plamenech, Ostrave, Czech Republic
07.08.2017 Festival Di Majano, Majano, Itlay
08.08.2017 Conrad Sohm, Dornbirn, Austria
10.08.2017 Leyendas Del Rock, Villena, Spain
11.08.2017 Vagos Metal Fest, Vagos, Portugal
12.08.2017 Into The Grave, Leeuwarden, The Netherlands
13.08.2017 Bloodstock Open Air, Walton-On-Trent, UK
ARCH ENEMY "Will To Power Tour 2017" w/ special guest Jinjer
15.09.2017 Music Hall, Innsbruck, Austria
16.09.2017 Posthof, Linz, Austria
17.09.2017 Cvetlicarna, Ljubljana, Slovenia
18.09.2017 Dom Omladine, Belgrade, Serbia
20.09.2017 Quantic Club Open Air Stage, Bucharest, Rumania
21.09.2017 Universiada Hall, Sofia, Bulgaria
22.09.2017 Piraeus 117 Academy, Athens, Greece
23.09.2017 Principal Club Theater Thessaloniki, Greece
25.09.2017 Majestic Music Club, Bratislava, Slovakia
26.09.2017 Progresja, Warsaw, Poland
27.09.2017 Loftas, Vilnius, Lithuania
29.09.2017 Melna Piektdiena, Riga, Latvia
30.09.2017 Rock Café, Tallinn, Estonia
01.10.2017 The Circus, Helsinki, Finland
03.10.2017 Re:Public, Minsk, Belarus *
04.10.2017 Aurora, St. Petersburg, Russia *
06.10.2017 Otdyh, Novosibirsk, Russia *
08.10.2017 Tele Club, Yekaterinburg, Russia *
10.10.2017 Yotaspace, Moscow, Russia *
11.10.2017 Zvezda, Samara, Russia*
*without Jinjer