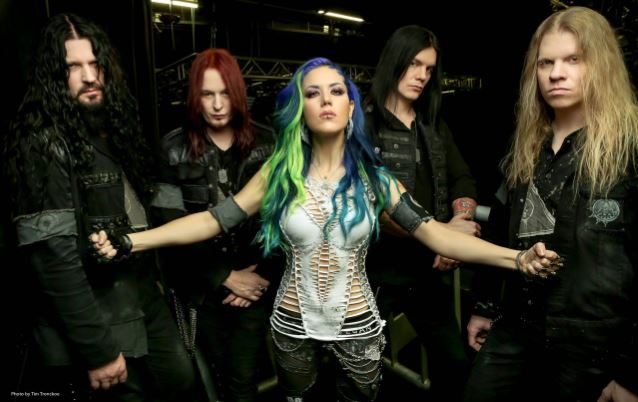 ARCH ENEMY have launched a live video for the song "Nemesis", filmed at Wacken 2016 and taken from their upcoming live DVD/Blu-ray "As The Stages Burn!" which will be released on March 31st, 2017. You can watch the live video below.
"As The Stages Burn!" is now available for pre-order as Ltd. Deluxe CD+DVD+Blu-ray Box Set, Special Edition CD+DVD Digipak, Gatefold 2LP+DVD and as digital album.
The full show of Wacken 2016 was recorded with 13 cameras, directed and produced by Patric Ullaeus. The audio was mixed by Andy Sneap.
The DVD/Blu-ray also contains Behind The Scenes footage from Wacken, as well as excerpts from the "Tokyo Sacrifice" live DVD, all "War Eternal" music videos and a new, previously unreleased video clip for "Time Is Black" as bonus material! The Deluxe Box Set will come with an Artbook incl. CD, DVD and Blu-ray, pop-up art, lanyard and "As The Stages Burn!" laminate.
ARCH ENEMY Live With THE HAUNTED and LACUNA COIL:
"As The Stages Burn!" release shows:
Presented by EMP
30.03.2017 – Bochum (Germany), Zeche* – SOLD OUT
31.03.2017 – Leipzig (Germany), Hellraiser* – SOLD OUT
01.04.2017 – Colmar (France), Rock in Hell*
02.04.2017 – Edinburgh (UK), Heavy Scotland
04.04.2017 – Langen (Germany), Neue Stadthalle**
05.04.2017 – München (Germany), Backstage Werk**
06.04.2017 – Saarbrücken (Germany), Garage**
07.04.2017 – Durbuy (Belgium), Durbuy Rock Festival**
08.04.2017 – Cambrai (France), Betiz Fest*
09.04.2017 – Ludwigsburg (Germany), Rockfabrik**
* with The Haunted
** with The Haunted and Lacuna Coil
ARCH ENEMY Festivals 2017:
02.02.2017 – 70000 Tons Of Metal – Miami, FL
06.07.2017 – Rock Harz Festival, Ballenstedt, Germany
14.07.2017 – Gefle Metal Festival , Gävle, Sweden
05.08.2017 – Ostrava v Plamenech, Ostrava, Czech Republic
10.08.2017 – Leyendas Del Rock, Villena, Spain
11.08.2017 – Vagos Metal Fest, Vagos, Portugal
12.08.2017 – Into The Grave, Leeuwarden, Netherlands
13.08.2017 – Bloodstock Open Air, Derby, UK