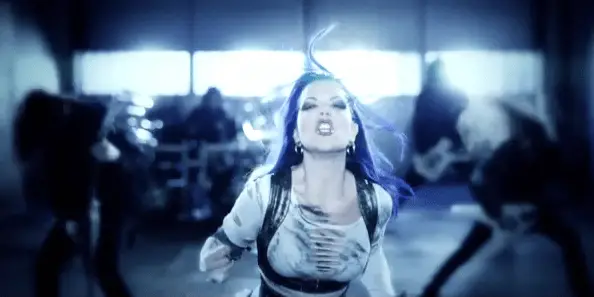 Harold "Howie" Herula of the "Hard Edge Radio" show on TapDetroit.com recently conducted an interview with vocalist Alissa White-Gluz of Swedish / American / Canadian metallers ARCH ENEMY. You can now listen to the chat using the audio player below.
ARCH ENEMY's new album, "War Eternal", sold around 8,000 copies in the United States in its first week of release to enter The Billboard 200 chart at position No. 44.
The band's last CD, "Khaos Legions", opened with around 6,000 units back in June 2011 to land at No. 78.
ARCH ENEMY's 2007 effort, "Rise Of The Tyrant", debuted at No. 84 with first-week U.S. sales of around 8,900 approximately 25 percent less than the opening number (12,000) of its predecessor, 2005's "Doomsday Machine" (which landed at No. 87).
"War Eternal" has registered the following first-week chart positions:
Finland: #5
Japan's Oricon chart (international artists): #7
Germany: #9
Austria: #13
Switzerland: #16
The Netherlands: #36
USA: #44
UK: #85
"War Eternal" was released on June 10 in North America via Century Media Records. The cover artwork was created by Costin Chioreanu.
ARCH ENEMY played its first show with Alissa White-Gluz, former vocalist of THE AGONIST, on May 23 at Turbohalle in Bucharest, Romania. Angela Gossow, who joined ARCH ENEMY in 2000 and made her debut on the now-classic "Wages Of Sin" (2001), has stepped down as frontwoman and will focus on management, while Alissa takes her place.
Speaking to Metal Underground, Alissa had the following to say about "War Eternal": "The circumstances surrounding the creation of this album, writing the lyrics and recording it, I'm just happy to have it finally come out. I think people are going to like it. The production quality is amazing! I always wanted an album that would sound this full. I'm a really big fan of this album, myself. Even if I weren't in the band and ARCH ENEMY put out this album, I would pick it up and say it's great. I'm really excited."
On the topic of the new album title, Alissa said: "This album ended up being a lot more personal than maybe some of my previous or Michael's previous lyrics. In the past, a topic like war or a political or global issue was what we normally wrote about. We were writing in two different bands, but we happen to have similar topics in our writing. Then when we were writing for this album, we had a collection of lyrics for this album, but we found that we were actually writing on similar things. Fighting the ongoing war in your day-to-day life, everybody has their battle going on that nobody else knows about. And then there are song titles like 'Never Forgive, Never Forget' and on and on, I think it ties in very nicely. It wasn't something we planned out, but that is the way it turned out, so it worked out really nicely. I think we really saw eye to eye and were experiencing similar things in our lives, so we ended up writing about the same topics even though we have different styles of writing lyrics."
Interview (audio):
 
Source: Blabbermouth