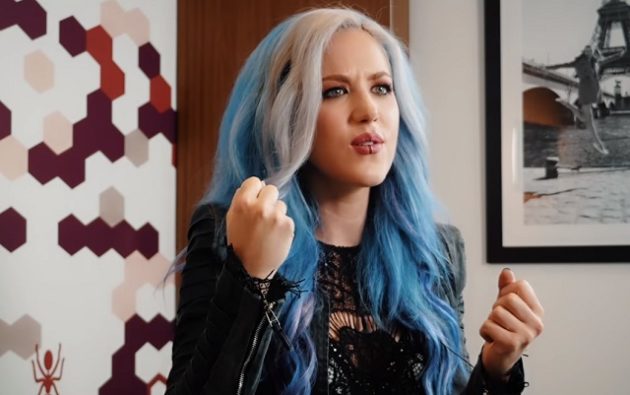 ARCH ENEMY vocalist Alissa White-Gluz was asked by Metal Hammer about what fans can expect from her upcoming solo album – for which she signed a record deal this year – to which she replied:
"I'm hoping to be able to finish writing and recording it, but I just don't have any time. I was working on it January and February, but I had to put my foot down and work on ARCH ENEMY songs, because I had this big deadline.
"For my solo album I have no deadline – I just need to get it done. But I don't want there to be throwaway songs; I want everything to be on there for a reason.
"Some of the songs are written 100% by me while others are collaborations with friends or musicians I'd like to work with, so I'm using this album to express myself in a fun way.
"I'm looking to get a producer as well – I've never worked with one before, but considering I have such little time, it might be a good idea."
Asked to single out her high point of 2017, Alissa replied:
"It has to be 'Will to Power' being released, [live DVD] 'As the Stages Burn' being released, and playing to more people than ever. A real professional accomplishment for myself has been to build my own studio, and in doing so I've taught myself how to engineer my own demos.
"Some of 'Will to Power' I recorded myself in my studio. In doing that, I feel like a more accomplished musician – I take my job very seriously so it felt good to reinvest in what I do and grow as a musician as well as teaching myself new instruments."