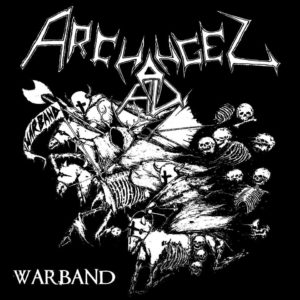 There are thousands of potential metal bands out there trying their best to show they have that "it" factor. Some of them do and some of them don't. Archangel A.D. definitely has "it."
The story of Archangel A.D. begins deep in the heart of Texas where in the last half decade they have made a lasting impression on the South Texas metal scene. They are a straight ahead Thrash metal band with a take no prisoners kind of attitude. A band that would make The Big 4 suggest adding a new member.
Are they really that good? Take a listen for yourself. Their debut EP, Warband, recently dropped and is a fantastic piece of work.
Warband features 31 minutes of rough-edged, skull-melting, metal madness. "Unto the Evil," the album's opening track, opens with a powerful speed-driven guitar riff. The whole band soon joins in excellent form before the vocals jump in to enhance the entire experience. "Unto the Evil" features an unforgettable and catchy chorus. Those of us who grew up in the early 2000s will recognize an appearance from Patrick Star at the end of "Unto the Evil" as well. "Blightling" sounds like it would have been on Metallica's Kill 'Em All. The album's title track, "Warband," comes up next and is that headbanging song we all need every once in a while. Where would Thrash metal be without heavy instrumentals? Warband has a neat instrumental, "Enter the Temple," that is worth its run time.
The last two songs on the release are my favorites by far. "Evil Dreams" delivers a slow buildup with some good riffs and a neat bassline to fill the mood. Even when the lyrics kick in the rhythmic beat stays the same through most of the song. It takes almost five minutes for the song to speed up and when it does it is one of the most pleasurable experiences on the album. "Metal Horde" does its job to end off the album in speedy and spectacular form.
Overall, Warband is a great release from an even better band. Guitarists Jacob Garcia and Matthew Karr work in partnership with duo lead/rhythm duties and trade off of each other well. Justin Lopez doubles as Bass and Vocals and handles both of his jobs with perfection. The bass is extremely audible here and it adds to the experience. Justin's vocals are a pleasure too. Think of a mash of Steve Kudlow of Anvil and Steve Grimmett of Grim Reaper with a hint of Dave Mustaine (ex-Metallica). Edward Vera Jr., the band's drummer, sounds great on the kit as well. The whole band is just awesome to listen to!
There is no telling where a band is going to go after their debut EP. It takes the right management, press, and talent to get to the top.
Archangel A.D. definitely has the talent.
Warband was released on Horsemen Records on June 30, 2018.
Track Listing:
Unto the Evil
Blightning
Warband
Enter the Temple
Evil Dreams
Metal Horde