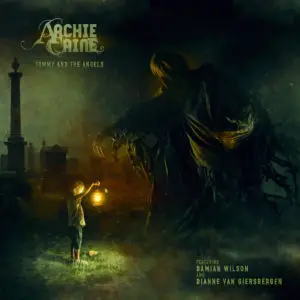 "Tommy and the Angels" is an album that comes with an unexpected, to the Metal music world, story. It's not the usual to have angels in any kind of Metal music. Nor having them as enlightened beings to serve and to help humankind. All th album's thematic was inspired by a song that came to mastermind Archie – the guy that names the band – in a dream. He and his long time friends created with his long-time friends Bo Wilde and Holly Nichol wrote the story of a child with a desperately unhappy life, and the angel who teaches him love, joy, and safety. Well, show of hands who's never had a life a life like this. The music in here isn't the heaviest or the sickiest of all times or even from the ones my dear fan has heard. But it sure tells a story.
"Tommy and the Angels" has some high calibre guest vocalists Dianne van Giersbergen – Libris, Xandria) – and Damian Wilson – Headspace. If my dear fan, who always follows us here, pay close attention to the music Archie Caine play soon it will be revealed some parallels with bands reviewed here as Battle Beast, Metalite, Moonlight Haze, Apolinara, and some others. It's a Symphonic Metal that goes hand by hand with Pop Metal or whatever it's called today. I've said anough about it so I'll resume and tell about this album. In short, when I read the press realase I really thought the album would be much less heavy that it actually is. The combination of voices – the tone of many Synphonic Metal bands – works pretty well as usual. The prone to the epic and grand as also here as it would be expected. Moreover, the thematic of the songs give the album an unusual power with lyrics that actually mean a thing. My guess is that these lyrics and the story are the highlights of this album. No pun intended. Archie Caine picked a side consciously. Agree to it or not it's a valid side. In a way this album isn't for the strong at heart if you know what I mean.
As I always say Metal music is here not to please the masses and if the masses are pleased with the devil talk let's do the opposite. That's the spirit of Metal. Not to please anyone. Metal is the rebellion against the rebellion itself. Evil praised and told in many songs isn't always embodied by someone like Satan. Evil is mostly what humankind do against each other. And religion is the favorite way of doing it. No shadow of doubt.
"Tommy and the Angels" Archie Caine will be self-released on April 22nd.
Track Listing:
TTGBITN
Faster
Meeting the Angel
Eden
Wonderland
Losing the Game
Chains
Tommy's Lamment
Happy Ever After
Epilogue
Watch "Eden" official video here: