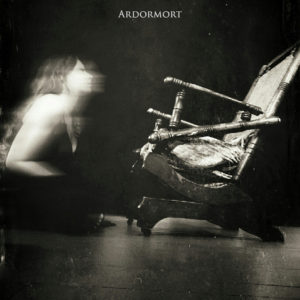 It seems like the picturesque and ambient music has gained its place in Metal music. It's the second effort this year that I review with an ambine music project. But this self-titled "Ardormort" chose not to be somber and strange. It'd rather sails known waters for it causes no repulse or any other kind of strong emotion. "Ardormort" is proggy with lots of synthesizers and keyboards. "May," for instance, has a 1980's techno-pop vibe and cadence with all the effects and sequencers – wow, I never thought I'd use this word here at Metal Addicts. It's the turns the world gives. Just that.
In "Ardormort" we have a different path. The path is known, but the outcome is sometimes unexpected as the beautiful gregorianish chorus in all "The Dirge of Ardormort" with a strong guitar riff and at the end an astonishing full chordal sequence that embellishes the song. But the tasty thing ever in "Ardormort" is the Rush-esque track, "Stiricidium," which keyboards fills all the song with a mysterious and full of shady textures of music.
We have to praise Ardormort for their ambition in a simple, but full of shady textures effort. As I said, "Ardormort" is more of a proggy effort full of keyboards and sequencers as in "Distrust" with a ELPish vibe given by the combination of the keyboards and a sequencer. The outcome is a song that may pleases proggers and metallers. BTW, you know that I never comment on covr arts, but this one is tricky.
"Ardormort" is an album to listen, and relax, when you get home from a very tiring day of work.
Ardormort "Ardormort" was released in 2018.
Track Listing:
Through Wind Swept Fields
The Shroud of Greenwood (The Great)
May
Ode
The Dirge of Ardormort
Stiricidium
Distrust
Watch "Ardormort" here: