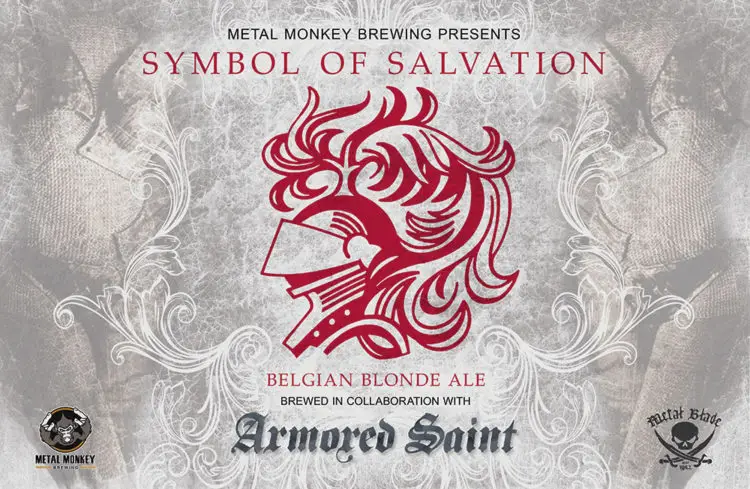 Decibel Metal & Beer Fest: Los Angeles (Dec. 1st and 2nd), presented by Metal Blade Records, continues its mission of pairing the most extreme minds in music and craft beer with "Symbol Of Salvation" Belgian Blonde Ale – a collaboration between Armored Saint (who will be performing at the SOLD-OUT official festival pre-party) and participating brewery Metal Monkey Brewing (Romeoville, IL). Brewed with Grains of Paradise and Pacifica hops, "Symbol Of Salvation" offers a slight twist on the traditional style; the Grains of Paradise add a slightly spicy, woody character, while the Pacifica hops bring to the party an aroma and flavor reminiscent of orange marmalade. The beer will first be tapped at the Decibel Metal & Beer Fest: Los Angeles – where Armored Saint will also be signing at 7PM on Dec. 1st. Enjoy "Symbol Of Salvation" with Armored Saint at the festival by purchasing your ticket here.
Brewmasters Dan Camp and Jason Janes started Metal Monkey Brewing out of a shared love for craft beer and heavy metal. Together they have over 20 years of brewing experience, with the last three spent building up the brewery portfolio, experimenting with styles and ingredients, and spreading word of their brews far and wide. Regarding the making of "Symbol Of Salvation," Metal Monkey Brewing comments:
"Metal Monkey got to hang out with Fates Warning after their Joliet, IL and Milwaukee, WI dates during their 2017 Theories of Flight tour. It was basically two nights of bonding over the magic of music and beer. When Armored Saint came through Chicago earlier this year as part of their tour to celebrate 'Symbol Of Salvation' we had the chance to do it all over again.
Since then, we've kept in touch with Joey Vera with an eye toward working together in the future. After we were added to the brewery lineup for the Decibel Metal & Beer Festival, we immediately got in touch with Joey because it was the perfect opportunity to turn a hypothetical into a reality.
Working with Joey has been a blast. He's he made music that's been a fixture in our lives and he shares our love of beer and our passion for creativity. It's been an honor to pair up and create a fun, flavorful beer that sidesteps conventional expectations.
We're proud to debut 'Symbol Of Salvation,' our Belgian Blonde Ale brewed in collaboration with and in celebration of Armored Saint and their iconic album, at the Decibel Metal & Beer Festival. Everything about this beer was born of a shared love for the art of brewing that, much like heavy metal in all its forms, affords endless possibilities."
Armored Saint's Joey Vera adds:
"We are super excited to announce that we have made a great craft beer in collaboration with Metal Monkey Brewery from Romeoville, Il! Aside from being Metal Heads, these guys are great brewers who are not afraid of going outside the box! Together, we've created a killer Belgian Blonde Ale that we stand tall behind! Welcome to 'Symbol Of Salvation' Belgian Blonde Ale! Come on out to the Decibel Beer Fest, meet the band, meet our brew, get a taste of 'Symbol Of Salvation' Belgian Blonde Ale!"
About Metal Monkey Brewing:
Metal Monkey Brewing takes pride in a comfortable taproom that provides customers with a laid-back environment conducive to socializing and sampling great beers. With 16 taps, there's something for everyone, at any time, across a broad range of styles. Well-known beers like Asmodeus, a Russian Imperial Stout (in its standard and various barrel-aged forms), Up & Atom, an award-winning coffee brown ale, Tony's Car, the brewery's flagship Double IPA, and Monkey Fuel, an award-winning Belgian Tripel showcase Metal Monkey's balance between reverence for the history and traditions of craft beer and the excitement of experimentation and innovation.
For more information, please visit: metalmonkeybrewing.com
About Armored Saint:
Having toured with Metallica, Whitesnake, Alice Cooper, The Scorpions, and many other artists since their inception in the early 80s, Armored Saint has always been a highly regarded live act – not only in their hometown of Los Angeles, but also around the world.
After reforming with their original line-up in 1999 (John Bush – vocals, Joey Vera – bass, Phil Sandoval – guitar, Jeff Duncan – guitar, Gonzo Sandoval – drums), and releasing subsequent albums, La Raza (2010) and Win Hands Down (2015), to critical acclaim, Armored Saint has been delivering their heavy metal mastery around the globe, joining the likes of Saxon, Metal Church, Queensryche, and more on the road.
This past summer, Armored Saint also commemorated their classic "Symbol Of Salvation" album, by playing the record in its entirety for fans worldwide. After a run of sold-out shows, the band will head into the studio in 2019 to begin work on their upcoming full-length for Metal Blade Records.
For more information, please visit: metalblade.com/armoredsaint