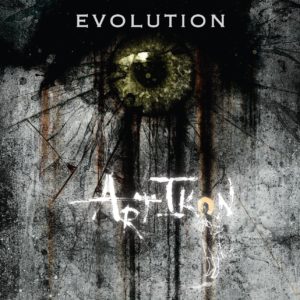 One of the many reasons I love Heavy Metal is because one can pick the band and music that best fit the mood someone is in. Heavy Metal offers music for all kinds of human emotions. If one wants something dark and somber, it's available; if one needs something with a lighter vibe, it's also available. You can pick the feeling you want. So, in short, you are a privileged being to listen to Metal. I keep on saying that.
Artikon offer you an album full of complex human emotion translated into a complex instrumental linked with a violin that gives a folk atmosphere to many tracks of "Evolution." This album is the first Progressive Folk Metal I've heard. Both feelings are well-dosed in it with lots of plot twists and some touches of Modern Metal as in "Home." There is a balance of Prog Metal and Folk Metal in this album not only throughout tracks, but also in the tracks. Take for instance, title track "Evolution, Pt. 1 (Creation)" and all the violin and piano parts which highlight a more complex songwriting. But, at the same time, there is a crunchy guitar giving the right dose of heaviness interweaven with some intricate guitar and keyboard phrases. This track is linked to the following simply called "Evolution, Pt. 2 (Faith)." Artikon intent is to translate into music the struggles humankind had to face to evolve.
Artikon "Evolution" is an album to whom desires something else on music. It deals with complex emotion in very puzzled way as it life. Do you not agree?
Artikon "Evolution" was self-released in 2018.
Track Listing:
Watch "Silence" official music video here: