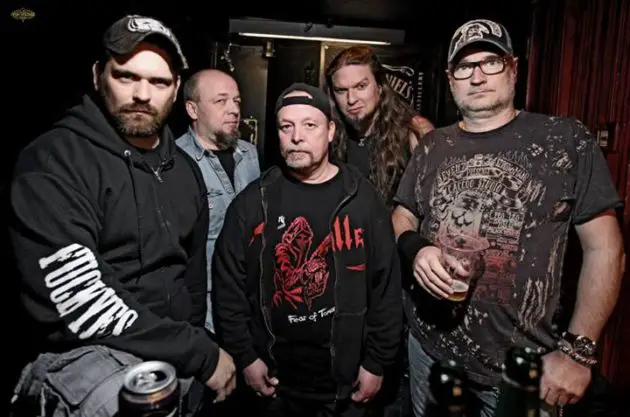 Danish Power Thrash Metallers ARTILLERY have just released a brand new official video for the song "When The Magic Is Gone". The song is taken off the bands latest album "Penalty By Perception". Check out the video below.
ARTILLERY comments: "Our new video 'When the magic is gone' is a song about death and grief, it is a very personal song which shows the more mellow side of Artillery. The Video was recorded in Nørrebro, Copenhagen by Terkel Christensen (Aggressive Art) who is an old friend of Artillery."
This week Saturday ARTILLERY will start their co-headline tour with ONSLAUGHT. ARTILLERY will celebrate the 30th Anniversary of their "Terror Squad" album on this run, playing 5-6 songs from that album + new songs of their latest album "Penalty By Perception" as well as some more classics.
Thrash Till Death Tour
ARTILLERY
+ ONSLAUGHT
+ EXARSIS
+ CHRONOSPHERE
23/09 – Helvete Club – Oberhausen (DE)
24/09 – Hedon Club – Zwolle (NL)
25/09 – De Verlichte Geest – Roeselare (BE)
26/09 – Roxy Concerts – Flensburg (DE)
27/09 – Garage Deluxe – München (DE)
28/09 – Moonlight Music Hall – Diest (BE)
29/09 – Fuizenfest – Riel (NL) (ONSLAUGHT)
30/09 – Kiehool Burgum – Burgum (NL)
01/10 – OFF DAY
02/10 – Schwarzer Adler – Tannheim-Egelsee (DE)
03/10 – Escape Metalcorner – Vienna (AT)
04/10 – 7er-Club – Mannheim (DE)
05/10 – Musigburg – Aarburg (CH)
06/10 – Dada Live Club – Pavia (IT)
07/10 – Revolver Music Hall – Venice (IT)
08/10 – Borderline – Pisa (IT)
09/10 – Sala Utopia – Zaragoza (SP)
10/10 – OFF DAY
11/10 – SMAC de La Gespe – Tarbes (FR)
12/10 – Sala Upload – Barcelona (SP)
ARTILLERY
+ IMPALERS
13/10 Amager Bio – Copenhagen
03/11 Konfus – Esbjerg
04/11 Pitstop- Kolding
10/11 Ungdomshuset – Fredericia
11/11 TBA
18/11 Von Hatten – Randers
24/11 Kontrast – Herning
25/11 Sønderborghus – Sønderborg
01/12 Templet – Lyngby
02/12 TBA