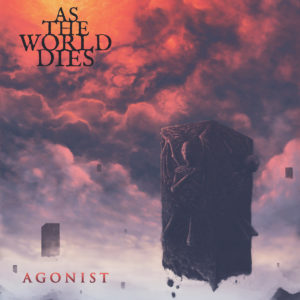 This is just the kind of Extreme Metal album that I like very much. Dense, complex, full of instrumental and vocal variations, that subtle gloomy and dark atmosphere. There is a slight touch of Industrial Metal in some tracks. But, as I said or it's very slight or it's me. "Agonist" is just the kind of album that made me hear it again and again for two reasons. First, of course, because I liked it and each time I hear it I find another feature or hidden detail that I hadn't noticed before; second, because I was in the middle of many things and I couldn't write the review right away while listening. It happens.
In terms of the music I hear here in "Agonist" it's very difficult to set a simple labeling. This is an album that each track tells a different story. I guess it's much better to put it this way. "Agonist" has to be slowly cherished with all the calm and tranquility of this sad and lonely and pathetic little world. Perhaps it is the perfect Extreme Metal album to show to that friend that doesn't like Extreme Metal but is at hand to try. It's not because "Agonist" isn't a heavy enough album to be considered a hybrid. It's the other way around, it's heavier than hell. It's because of the many variations it showcases that will prove to your friend that Extreme Metal can be complex and heavy at the same time. A track as "As The World Dies," an eponimous of the band name, coincidentally or not tells a lot about the band and its music. It's heavy as hell with a slow and wicked cadence that seems to me to be the soundtrack to the end of the world. Slow and painful. As it's going right now.
The album is kicked off with a short and intimist track "Annulment" which has a short speech and leave the fan clueless because it's impossible to know what comes next. That's a pro about As the World Dies because, unlike mos of their peers, it's impossible to guess what kind of track will come next in terms of muscality. As the World Dies aren't a standard Death Metal band and I say this in the very great sense of it. Each track is a surprise. A great one. By the way, my dear fan will notice this looking at the CD cover which is far from standard.
As the World Dies "Agonist" will be released on March 25th via Transcending Obscurity Records.
Track Listing:
Watch "As the World Dies" official video here: