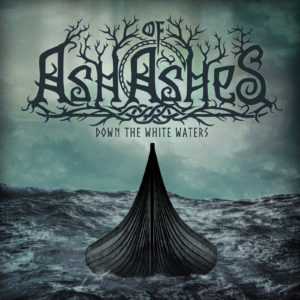 Who would have ever guessed a few years ago that the match between art rock and extreme metal would be so rewarding. I mean, would have ever guessed that there would be a match between them. I wouldn't. Haha, don't tell me you would. And how it would be epic? No one would. Please, don't fool yourselves. Well, here are Ash of Ashes to prove us all wrong. The dudes were able to mix extreme metal with art rock and get out of it alive and well. They do have my respect.
Yeah, yeah, I know some bands did it in the 1990s, but the 1990s are a huge blank in my life. Hard times when I had to provide for my family and Metal was second best. That's life, my Metal child. But if you allow me, I guess Ash of Ashes are giving their personal contribution. And that was the adding of folk metal to their formula, so, their music gets more intense and rich. Folk influences do that to a band's music. It has this power of making it richer and more intense. Also more emotional, but for the better. Take "The Queen's Lament (The Lay of Wayland)," for instance. A track that mixes all of this. It sounds great. To Ash of Ashes, folk influences make their music epic. It the grand touch as in the "The Lay of Wayland" series. By the way, great idea to have a series of four songs with the same background: Seven Winters Long, In Chains, The Queen's Lament, and Chambers of Stone.
That's what I keep on telling you guys. Metal music is of a huge diversity today. It allows lots of other influence. But the Metal background has to be greater in order to work. Metal has to be bigger than other influences. For not to milk music so much. Ash of Ashes got to a perfect balance. It's not easy to accomplish it, I must tell you.
Now I got what skaldic means…
Ash of Ashes "Down the White Waters" will be released on September 21st via Kalthallen Tonträger.
Track Listing:
Down the White Waters
Flames on the Horizon
Ash to Ash
Sea of Stones
Springar
Seven Winters Long (The Lay of Wayland)
In Chains (The Lay of Wayland)
The Queen's Lament (The Lay of Wayland)
Chambers of Stone (The Lay of Wayland)
Outro
Watch the album teaser #2 here: