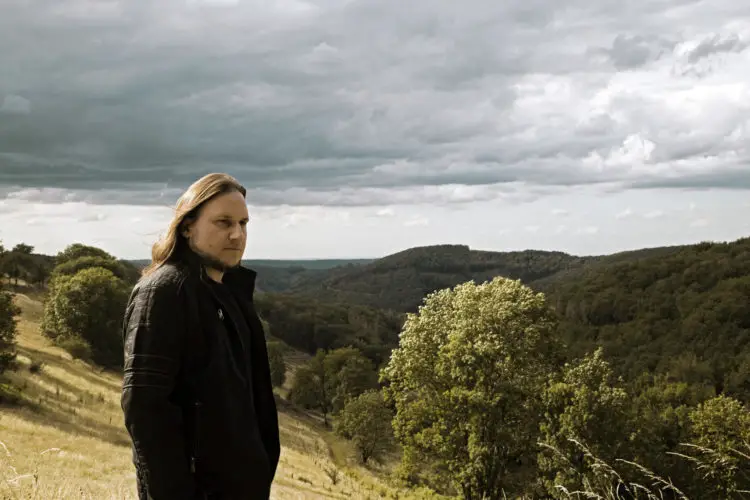 With the 2018 debut "Down The White Waters", singer, guitarist and composer Skaldir attracted attention across genres. The triumphant EPIC SKALDIC METAL of ASH OF ASHES could even book several media top rankings worldwide.
The fact that the exceptional aesthete from Germany was so successful right from the start with his successor band to HEL, founded in 2014, was primarily due to the captivatingly artistic musicality of this unique album.
The necessary time, which the talented maestro left himself for the now appearing successor, fully benefits every single piece on "Traces" without exception.
Everything should be as accomplished as equally natural and organic – as the wonderfully picturesque artwork of the talented Norwegian Christopher Rakkestad clearly shows. A feast for tasteful eyes.
Musically, the gloriously radiant path of noble and illustrious epic moves forward, even if it is purposefully even more varied – especially in various tempos.
"Traces" delights all senses with such finely melodically arranged and highly catchy 'Storyteller Metal' that it is simply magnificent! Besides Skaldir and his well-tried comrade-in-arms Morten as lyricist and co-vocalist, live drummer Stryx and live guitarist Sethras can also be heard on the new masterpiece.
As a guest vocalist, the excellently integrated Lars Jensen of Myrkgrav joins the brilliant song "Into Eternity" with his fabulously distinctive voice for even more multiple sprawling goose bumps – Jensen sounds so exquisite, as if he was born only for this.
In the last track "To Those Long Forgotten" there are two guest singers due to the different roles in the song lyrics:
Mystik Folk spiritualist Rúnahild, who was already heard on the Hardanger fiddle on the debut album, sings the female vocal part, while cover artist Christopher Rakkestad (Elvarhøi) takes the male role. This metal ballad is about parents mourning their child killed in war. Emotionally delivered, this lyrical theme, though unplanned, has now become more relevant than ever.
Lyrically, the second album of ASH OF ASHES deals with the inevitably moving theme 'journey'.
The lyrical topics on "Traces" range from the courageous departure up to the end – including the traces along with memory that ultimately remains in the traveler until the end of his days. Historical and mythological elements are interwoven in an exciting way, which guarantees timelessly entertaining stories.
Read our review here.