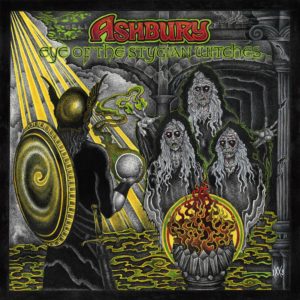 Take generous dashes of Jethro Tull – "Crest of Knave" era, a bit of Eric Clapton – in "End of All Time" and guitars mostly -, a very small dash of Blind Guardian – as in "The Forgotten Tales" – era, some of medieval tunes, and of course, metal music. Mix everything in a cauldron, and there, you get Ashbury "Eye of the Stygian Witches" an album with eleven delicate pieces of pure instrumental and emotional delight.
Ashbury "Eye of the Stygian Witches" is for the ones who believe heavy metallers have a heart. Black, nevertheless a heart beating in one's chest. Rob Davis is the keeper lost guitar technique. The one led by emotion when you play slowly note by note feeling the sweet taste of each one. Rhythm is made of delicate structures, but yet defying you to bang your head as in "Good Guitar" – not a coincidence, I don't believe them. Randy Davis clear and big voice do the rest of the magic. Unparalleled music.
You know, guys, Metal is a musical movement that became social. Ok, then. That's why we love bands with good musicians. Metal is made of contrasts as it is life. We can hear an extreme metal band to then listen to "Summer Fades Away" whose poetry is breathing from each pore. Of course, regular people won't even get us, but nevermind, that's the beauty of it. As Deena Weinstein says we are the proud pariahs. Pariah is a good word for us. By the way, there is a band called Pariah. Proud because we are the best, and our music is the best. And just because Ashbury do great music. Pay attention to the delicate textures "Celtic Cross" is made of. Never forget that: we are the proud pariahs. This hell of world is not for us. Let us with our music and destiny do the rest.
So, an advice: take Ashbury "Eye of the Stygian Witches" and go to your room. Close the door, the window, turn off your cell phone, play it loud, taste every note of it slowly, very slowly. Feel yourself traveling to a far distant place where music rules. Metal music, of course. Then, come back! Life is to be lived!
Ashbury "Eye of the Stygian Witches" will be released on September 28th via High Roller Records.
Track Listing:
Watch "Eye of the Stygian Witches" official video here: