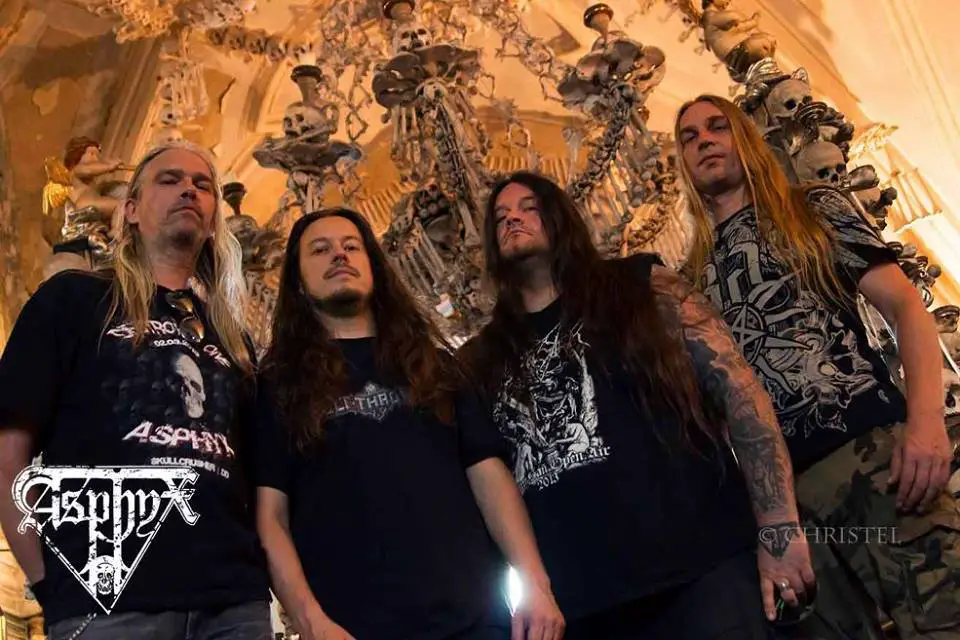 Next to the restless and still ongoing live-campaign for their latest album release "Incoming death", Dutch Doom Death Metal division ASPHYX are proud to announce a very special anniversary celebration of the band's 30 years of existence in 2017.
In addition to the already announced and sold out anniversary show at the Turock venue in Essen, Germany on Saturday, November 18th, 2017, ASPHYX have now announced a second (matinee) show in the same location for the day after, Sunday, November 19th, 2017.
These two "30 Years Anniversary" concerts will not only be supported by metal comrades Pentacle and Soulburn, but also feature long ASPHYX sets, special merchandise as well as meet and greet opportunities including former band members like Eric Daniels, Bob Bagchus, Wannes Gubbels, Ronnie van der Wey, Roel Sanders or Sander van Hoof. Tickets are on sale and are not expected to last very long, so better be quick! Purchase tickets here!
ASPHYX have checked in with the following message about the anniversary show/s: "Salutations Asphyxians! Due to the unexpected, rapid sell out of our 30 years anniversary show in Turock, Essen, Germany on November 18th, for which our massive gratitude, we decided for those who could not obtain a ticket, to do an extra show the very next day. So, Sunday the 19th of November 2017. Same bill, same set, same goodies, same price. Just a little earlier, doors open at 15.00 hours, so everybody can get back to work on time the next day. Cheerz and see you all in November!"
Also, November 17th, 2017 will mark the long overdue release date for a special and limited anniversary version of ASPHYX's classic debut album "The Rack" as double-album, containing both the original album as well as a special bonus version of the entire album sequence covered by friends and peers of the group. More details and formats of this project will be unveiled soon, so stay tuned!
The current ASPHYX album release "Incoming Death" was released worldwide past September via the band's longtime label Century Media Records. It was once again mixed and mastered by Dan Swanö at Unisound Studio and entered the official sales charts in various European countries upon release as follows: Germany: # 30, Switzerland: # 67 and Belgium (Wallonia): # 78.
Check a list of all upcoming ASPHYX shows (Updates marked *) announced so far here:
ASPHYX – Live 2017:
22.07.2017 Brescia Italy) – Colony Open Air
13.08.2017 Kortrijk (/Belgium) – Alcatraz Metal Fest *
19.08.2017 Dinkelsbühl (Germany) – Summer Breeze Open Air
09.09.2017 Rotterdam (The Netherlands) – Baroeg Open Air *
30.09.2017 Bucharest (Romania) – Fabrica
07.10.2017 Hoogeveen (The Netherlands) – Graveland Festival *
21.10.2017 Warsaw (Poland) – Progresja *
18.11.2017 Essen (Germany) – Turock / 30 Years Anniversary Show – Sold Out! *
19.11.2017 Essen (Germany) – Turock / 30 Years Anniversary Show – Matinee! *
More dates to be announced soon…