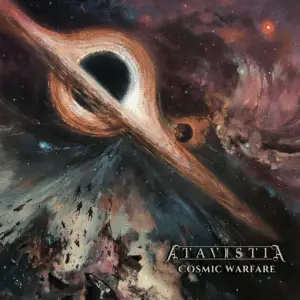 Symphonic Black Metal is one of the subgenres of Metal music that puzzles me the most due to its intrinsic obvious prone to contrast. Well, to be symphonic and Black Metal at the same time is, for me, a living contradiction. Rationally, it's impossible to be both at the same time due to what both subgenres represent in terms of philosophy. There are antagonic forces between both as heaven and hell as symphonic is meant to be, and represents, the forces of good. Needless to say what Black Metal represents. Musically, however, this antagonism works perfectly exactly due to the musical contradictions and antagonisms that both subgenres bring to the dance. Even though, "Cosmic Warfare" delivers much more Symphonic traits than Black Metal. Atavistia may be aware of all this chose an album tittle that really represents this duality with "Cosmic Warfare" which, from where I'm standing the album represents what that would be. The duality of voices in the album showcases the band's representation of good and evil in their own point of view, of course. The album cover shows this perfectly.
When I saw tha name of the band Atavistia, the album tittle and put opening track "Omega Nova" to play I thought it would be some kind of Progressive Metal band or even a Symphonic Metal band. It was only with the vocals of album tittle track "Cosmic Warfare" vocals that reality came to me. "Cosmic Warfare" is an album that deals flawlessly with both subgenres have in common ground that is the prone to be grand and epic. Let's say that "Cosmic Warfare," which by the way has more than seven minutes, sounds as the missing link of Nightwish with Bathory. Then there goes all the album with this main musical idea. Well, that would be the easiest way of portraiting the album. The album is more than this. Yngwie Malmsteen gave the inspiration to its guitar solos and the outcome is as grand as the song itself. The change of vocals to a more melodic one after the solos contributes a lot to this sense of grandness inspired by the nothingness of space. To exploit a little this idea of the nothingness of space Atavistia deliver the eight minute "Ethereal Wanderer" where the band explores its prone to mix the Symphonic verve to Atmospheric Black Metal, a subgenre that also explores those ideas.
The ideas that "Cosmic Warfare" contains aren't easy to express in music, but Atavistia did a pretty good job in it. It's an album to listen carefully and pay attention to all the details. As we all know the devil is in the details…
Atavistia "Cosmic Warfare" will be released on April 21st via Blood Blast Distribution.
Track Listing:
Omega Nova
Cosmic Warfare
Ethereal Wanderer
Spectral Rebirth
Divine Destruction
Forgotten Silence
Watch "Cosmic Warfare" official music video here:
1716