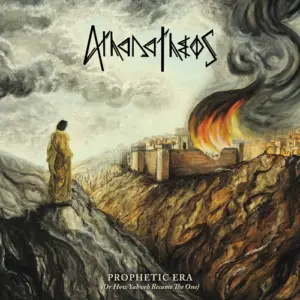 It's not often, but once in a while we receive a band that grounbreaks everything we know and go beyond all the limits and boundaries put. After three years it's getting more difficult to surprise me, I mean, not that difficult either, but the band has to do some serious effort – you know my child of the night that I mean well. Long story short, I appreciate some simple things as good musicians performance, some creativity in the song writing, some boldness to go beyond the style the band chose, and changes in the tempo and cadence altoguether. Not so much, isn't it?
"Prophetic Era" begins promissing with the intro of "Samaria" where a shoegazed guitar with lots of breaks a la Zakk Wylde in the riffing do the honors with a drumming that does much more than filling the blanks. It works just fine. The cadence gets more creative as it steps away from the pattern of Funeral Death Doom bands. I mean, most of them abuse on the slow cadence and the mesmerizing guitar riffing. Not here, sir. The outcome blowa our minds with a very heavy and twisted song that gets even more insane with the sickiest vocals that the fan could possibly imagine. By the way, I have to open some space here to say a few good words on what vocalist Samuel Girard does in this album. The man abuses on using many techniques to make his perfomance very personal and creative and with a lot of prowness. What he does in "One Against All" is unforgetable. I have to say as well that the instrumental is sick enough to face what he does. Here we have a band that could play together with blind eyes. Guitars are also very creative using lots of techniques and background noises to enrich the mood and atmosphere making it the sickiest possible.
Athanatheos gave up the use of lots of speed to supposedly get heavier as many may think. On the other hand, the outcome is a slow and shoegazed – at times – music that is very heavy with lots of changes in cadence and tempo. The band uses creatively all the weapons they got in hand to make tracks as "Paradigms" and "(R)evolution, Revelation" insaner and insaner. This last one os a master piece of changes in speed. Guitars are almost free jazzly changing tempo and doing whatever they want in here. It can't get sickier. It's amazing to listen to the wall of sound created in "You Shall Not Be" with the sick and full of mockery – as demon's mockery – vocals embelished by the guitar squeaks. Again, Athanatheos are a band that surprises.
Athanatheos "Prophetic Era" was released on June 29th via  Lavadome Productions.
Track Listing:
Samaria
One Against All
Jerusalem (The Exile To Babylon)
Paradigms
(R)evolution, Revelation
You Shall Not Be
There Was No Soul, There Is Death, There Shall Never Be A Life Beyond (Soul Injected Part III)
Watch "(R)evolution, Revelation" official video here:
916