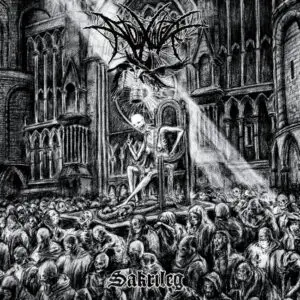 It's only here at Metal Addicts that my dear child of the night will have the chance to read reviews of all kinds of Metal music. Of course, with only the well-known exceptions that I've said zillion times. It's the only that it's possible to catch a review of a Hair Metal band side by side a Black Metal one. Funny thing is that this was pretty common years ago before the Metal split in to genres and subgenres. No problem with that because it was the most important move that kept Metal alive for all these years. The downside is that the crowd got split as well. Back then, even festivals had a kind of healthy mix with bands from many styles. Nowadays it's almost impossible.
Atomwinter with "Sakrileg" revives the good old days of early Extreme Metal when the terms Black/Death/Speed Metal were almost always used together because there was no clear definition of what they were. "Sakrileg" is opened up with a foggy intro which, I guess, tries to emulate a dark and somber night somewhere in the woods. Then follows "Ov Blood and Flesh" where Atomwinter present everuthing they got in a fast and furious sequence of chords and that machine gun drumming that we all appreciate. The track showcases no news but it's always great to listen to a bloody dark track as this one. Things change a little with "Brutal Scriptures" which has a slower cadence with some catchy guitar riffings. The kind of guitar riff that glue in the fan's mind and it's very hard to forget. In tracks as "Catatonic Pathway" the band includes some melodic passages just because to break the ice and introduce the fan to the cadenced "The Dark Void" which gets the fan by the guts with a strong guitar riffing with a well-marked cadence. But, I guess, what the fan will keep in mind is the early Death Metal with all the blastbeats and the famous breaks that ten in eleven Metal fans appreciate. Pay close attention to the album tittle "Sakrileg" and its "catchy" chorus.
"Sakrileg" is that kind of album that the fan appreciates just because the fun. Atomwinter perform the kind of Extreme Metal that conquered the world.
Atomwinter "Sakrileg" will be released on February 10th via Trollzorn.
Track Listing:
Intro
Ov Blood and Flesh
The Lungs ov Hell
Brutal Scriptures
Catatonic Pathway
The Dark Void
Sakrileg
Cryptic Death
Until the Loss ov God
Born Into Iron Coffins
Sacred Scum
Watch "Until the Loss ov God" official music video here: