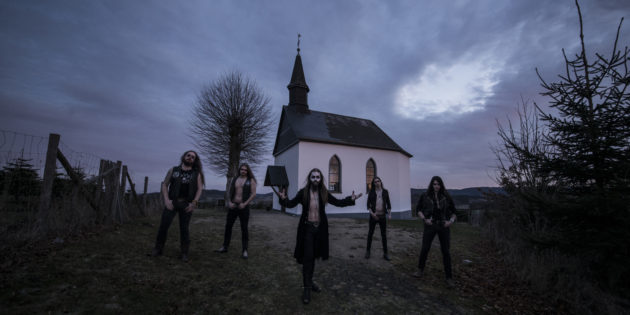 After more than four years the follow-up to "The Invocation" is finally on its way… German Metallers ATTIC will unleash their sophomore full-length "Sanctimonious!" It is a complete concept album that contains 13 tracks and over an hour playing time. Prepare for utter horror and darkest heavy metal once again!
ATTIC was formed in the fall of 2010. With the love for sinister music, horror movies/-books, spiritualism and occultism in common, they decided to play traditional Heavy Metal in the vein of bands like Mercyful Fate, Pentagram, Judas Priest, Helstar … etc. The mixture of raw, classic old school Heavy Metal and a dark, dense atmosphere is always essential in the band's music. After the first live shows they were totally blown away by the highly positive response and started recording their first demo, which was released in the beginning of 2012 and was praised by critics and fans alike. After some club-, and festival-shows throughout the year, the band decided to enter the studio in the fall of 2012.
On December 7th 2012 ATTIC released their highly acclaimed debut full-length "The Invocation" via Ván Records, which became "album of the month" in Germany's Rock Hard magazine. In December 2012 they supported The Devil's Blood on their 'Everlasting Saturnalia'-tour, which was followed by gigs through Germany, Benelux and Scandinavia. In 2013 Attic also appeared at "Keep It True Festival", "Rock Hard Festival", "Hell's Pleasure Metalfest" and "Party San Open Air." In winter 2013 drummer Roman left the band, and after a couple of months JP was recruited as the new drummer and a permanent member of the band. Complete again, ATTIC started with the songwriting for their ambitious first concept album and went on a long headliner tour through Europe in mid 2015, supported by the Italian band Caronte.
During 2016 ATTIC finally completed the songs for their concept album "Sanctimonious" and hit the studio in December. The band is more motivated than ever to spread their satanic chants across the world and is currently working on plans for an extensive tour at the end of 2017.
Click here to read our review.
The interview is available here.