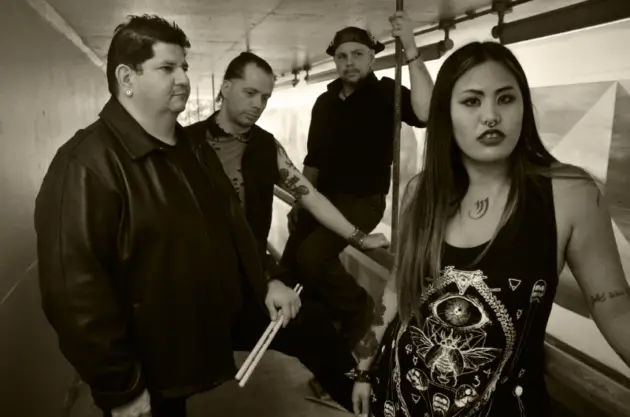 Progressive alternative metal band AUDITORY ARMORY have released a stunning cover of Type O Negative's classic track "Love You To Death". You can listen to the track below.
"Love You To Death" is featured on the band's forthcoming album "Dark Matter" which will be released on July 21st, 2017.
AUDITORY ARMORY is not your average female-fronted band. The influences of the band range from alternative to metal to progressive to jazz and beyond. The lyrical scope of AUDITORY ARMORY's songs skims past the superficial love song or pop hit. AUDITORY ARMORY is doing what so little in the music industry are actually doing — writing honestly. AUDITORY ARMORY expertly uses the symbiosis of heavy rock and melody to introspectively explore dark emotions about self-worth and one's role in the universe.
Vocalist, guitarist and songwriter April Montallana says: "I prefer to be honest with my lyrics. I don't care about what is popular or mainstream. I just hope that our music will move and touch some people. Music saved my life…I want to do that for others.."
AUDITORY ARMORY has had the honor of sharing the stage with Full Devil Jacket, Fuel, Straight Line Stitch, Lacey Sturm, Bonz (from Stuck Mojo), Nothing More, Dead Horse Trauma, Bellusira, Mike Tramp (White Lion), Kelen Heller, and Saint Rebel.  They were also selected to play the 2016 3rd Annual Kink Music Festiival alongside national acts such as Evanescence, HELLYEAH, and In Flames."