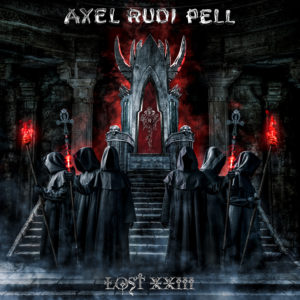 It's official now! Axel Rudi Pell is the artist with more reviews by this distinguished media vehicle. There are five of them: 2017's "The Ballads V", 2018's "Knights' Call," 2019's "*XX Anniversary Live," 2020's "Sign of the Times," and 2021's "Diamonds Unlocked II." With today's review it'll be the grand total of six. No band has reached this expressive number. Of course, they aren't all albums of new tracks, most of them are compilations. Even so, the number is impressive. Every now and them Mr. Pell has the habit of releasing compilations of his ballads. The man has the hand for them. Ok, not the same as Scorpions do, but still the man has the hand for ballads. Check the more the eight minutes long "Gone With The Wind" and its intro as Black Sabbath's "Solitude" that goes in the crescendo balladeers love. It's clear to me that Black Sabbath has been a constant influence in his works. By the way, second track "Survive" has a strong taste of Kiss in the guitars. To be more precise in the guitar licks. Kiss also a big presence in his works as well.
I never get tired of saying that what attracts me the most in Mr. Pell's career is his finesse with the guitar playing. Few notes, more emotion, just like the old, but gold masters as Jimi Hendrix, Jimmy Page, Angus Young, and many others. His musicianship is a honor to all these guys. His long, and successfull, career too. It's such a delight to hear guitar solos as in "Freight Train" where the speed is used as a mean to stress the notes, not the end itself. Finesse, my dear fan, finesse. One thing that lacks these days. About "Freight Train" again. The song's cadence reminds me a lot Dokken when the band wrote "Dream Warriors" as a soundtrack for "A Nightmare on Elm Street 3: Dream Warriors." References, my dear child of the night, only references.
From all Mr. Pell's albums I've listened so far, this is the most various with the most variety of tempos, cadences, and moods. It's impossible to aks from an artist with such a long career to be innovative each album. Moreover, who cares? I don't. As you my dear fan knows I'm not that change for change's sake guy. On the contrary, don't mess with success I always write here. Just let Mr. Pell's music roll.
P.S: When I got this "Lost XXIII" I got deceived by its name as I thought it would be another compilation.
Axel Rudi Pell "Lost XXIII" will be released on April 08th via Steamhammer / SPV Records.
Track Listing:
Lost XXIII Prequel (Intro)
Survive
No Compromise
Down on the Streets
Gone with the Wind
Freight Train
Follow the Beast
Fly with Me
The Rise of Ankhoor
Lost XXIII
Watch "Survive" official video here: