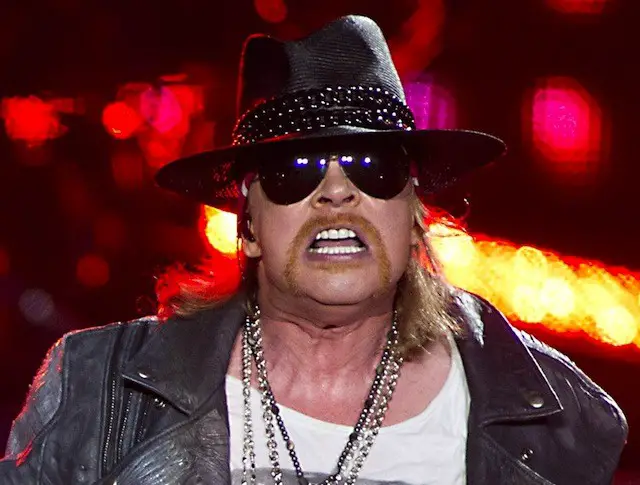 Axl Rose took part in a rare press conference yesterday in London. While speaking at the China Exchange, Axl spoke about his relationship with AC/DC's Angus Young and revealed that the current GUNS N' ROSES lineup is working on new material.
During the question-and-answer session — audio of which can be heard below — Rose was asked if there are any plans for him to release new music in the not-too-distant future. He said: "We are working on new stuff. I've got a lot of stuff together, and I played some stuff for [GUNS N' ROSES bandmates] Slash and Duff [McKagan] and they liked it. And Angus [Young, AC/DC guitarist] and I are talking about working together."
Rose was also asked about the possibility of him one day writing his autobiography, just as Slash and McKagan had done. He said: "I think so — quite possibly, yes. But it's tough, because I have to figure out how to word things in a way that doesn't just look like I'm being negative to everyone else or calling them a liar."
He continued: "Slash and I hadn't talked in 19 years, and [when we finally reconnected] it was a good talk. And I was, like, 'You wrote a lot of stuff [in your book] that didn't even happen. It's not real.'"
Asked about his relationship with Angus Young, Axl said: "It's great. I can't really explain it. I feel something… I feel protective, [like] I do not want to let this guy down, more than almost anybody I've ever met. And I don't know why. And he's very responsive to me. And they said they hadn't seen him this happy, they hadn't seen him moving around [as much before]. So that's kind of a neat thing between musicians."
Axl spoke about further subjects like possibly writing his own autobiography, working with a vocal coach, the impact of YouTube on the music industry and more. Check it out in the video below.