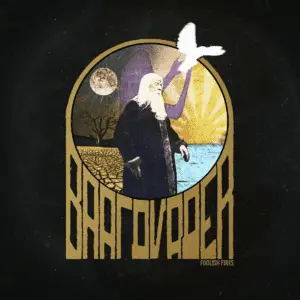 Never in my entire life I would ever think that grunge could evolve. Well, never in my entire life I would ever think that still existed bands playing the so called grunge. Of course, I don't it's called grunge anymore. To some extent those bands are now part of Doom Metal or even any other label journalists are able to create in order to say what it's not to be said. In fact, the so called grunge had lots of Black Sabbath with some dashes of Ramones and other 1970's Heavy Rock bands. Soon after all the fuzz the media created most bands took south and never were seen again. So much for the almighty Rock saviors as the press used to refer to them. Not without leaving a scourched earth trail after them. So say hair Metal bands.
Baardvader with "Foolish Fires" made me reconsider some of my thoughts. This album showcases pieces that may be considered the evolution of grunge or, if you prefer, some Doom Metal with generous dashes of 1970's Heavy Rock with lots of fuzzy guitars. But vocals, ah vocals, they never lie. Vocals here are pure pieces of the so called grunge. J. Aron does his best to sound similar to Alice in Chains' Layne Staley. By the way, one of the so called grunge that I do respect is Alice in Chains. But here with lots of guitar solos. I always say that guitar solos are the spice and the spirit of all kinds of Rock music especially when it comes to Metal music. They are the spirit and the source of the music we all love. So, any related music without them are bound to fail. I'm not going to mention any here because it wouldn't be fair.
The album kicks off in a deceiving way with "Pray." The initial guitar effects would never tell that behind them would come a mass of low tuned fuzzy guitars with the force to stop a train. The tonal way they are introduced to the song makes a hell of an effect. The slow-moving shoegazed guitars here give my child of the night a lot of thrills. The doomy atmosphere Baardvader create fill in the gaps and give us the best introduction ever. After some minutes – all Doom Meta songs are long – comes the guitar solo with all its grace. I guess grunge would still be here if there were guitar solos. Only if. Wow, I never thought I would fall for this kind of band. Following track "Understand" changes a little the scenario with its strumming guitars. Initially it doesn't have the eerie mood "Pray" has. But that changes soon as the song evolves and gets Baardvader's signature. A strong signature if I may say it. And so the album goes with some minor changes.
"Foolish Fires" is an album that made me rearrange some thoughts. I guess my dear child of the night may like it as I did.
Baardvader "Foolish Fires" was released on October 01st via Baardvader Records.
Track Listing:
Pray
Understand
Illuminate
Blinded Out
Prolong Eternity
Echoes
Watch "Pray" official music video here: