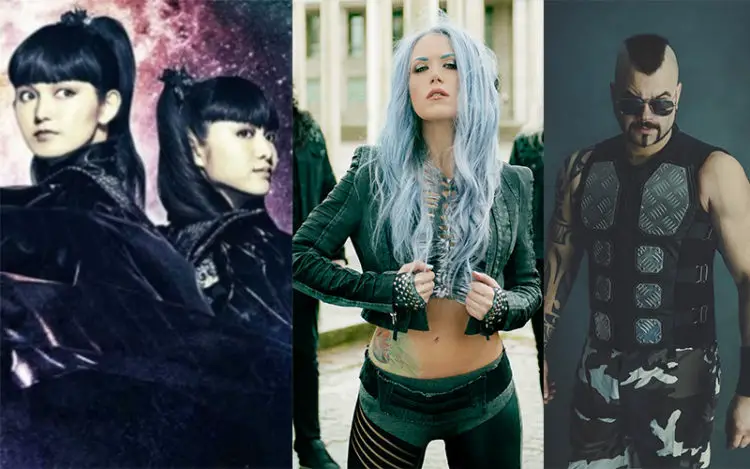 BABYMETAL will release its third album, "Metal Galaxy", on October 11 via earMUSIC/Edel. The follow-up to 2016's Metal Resistance is based on the concept of "The Odyssey Of Metal Galaxy."
"Metal Galaxy" contains 14 songs, including include the four singles that have been released over the course of the last few months: "Pa Pa Ya!!," "Starlight", "Distortion" and "Elevator Girl". The album expresses light and darkness, emotions like duality and ambivalence, and "new metal" created by various chemical reactions as other entities evolved and expanded in this album.
Just like the sun and the moon changes the appearance of this world with its daylight and moonlight, with evermore new type of various sound, BABYMETAL's music paints the metal galaxy in different colors.
The album includes five songs that feature guest appearances from worldwide musicians who were perfect to the character of each song.
Guitarist Tak Matsumoto from B'Z is featured on "Da Da Dance". Vocalist Joakim Brodén from SABATON is featured on "Oh! Majinai". Guitarist Tim Henson and Scott LePage from POLYPHIA are featured on "Brand New Day". Vocalist Alissa White-Gluz from ARCH ENEMY is featured on "Distortion". Rapper F.Hero is featured in "Pa Pa Ya!!" The guest musicians add more colors to the odyssey of the metal galaxy.
"Metal Galaxy" track listing:
01. Future Metal 
02. Da Da Dance (feat. Tak Matsumoto) 
03. Elevator Girl (English version) 
04. Shanti Shanti Shanti 
05. Oh! Majinai (feat. Joakim Brodén) 
06. Brand New Day (feat. Tim Henson and Scott LePage) 
07. Night Night Burn! 
08. In The Name Of 
09. Distortion (feat. Alissa White-Gluz) 
10. Pa Pa Ya! ! (feat. F.Hero) 
11. Kagerou 
12. Starlight 
13. Shine 
14. Arkadia