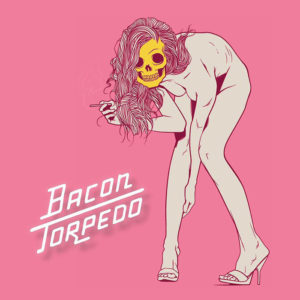 Bacon Torpedo are a band that mix punk mockery and attitude with hard rock instrumental technique. It's a 1970ish punk rock band with a 1990ish hard rock instrumental one. I guess it pretty much covers it all. Vocals are pretty punkish. Pretty Sex Pistols with all that mockery and yelling. This self-titled EP has only four songs with no more than three minutes, an average of two.
By its title, "Work Sucks" shows what it's got. A hymn about how work these days is another form of slavery. Or at least, it sucks. It is the opening track and the mix of punk and hard rock is at its best. Guitar solos are inspired and the tones are pleasant. The same sonance of early 1990s hard band as Warrant. A message  to all workers in the world with barely two minutes. "Medicine Girls" opens up with a strong chordly riff. In very first beginning it sounds like AC/DC. Only in the first seconds. Instrumental is purely hard rock. Raw, strong, and fierceful. With a nice guitar solo. "I Don't Want Your Money, Honey" is pure punk mockery with a Black Sabbathish bass intro and a yelled vocal. I almos forgot how nice this kind of vocals are. Pure energy. Pure rebellion. The things metal and rock were made from. The last, but not least, "I Know You Want It" has the most punkish grip. Guitars riffs are chordly and strong. But guitar solo makes no mistake: it's Metal!
So, if you are interested in a band with a non usual proposal Bacon Torpedo are your choice. If you want to bang your head with no excuses, try it!
Bacon Torpedo was released on April 19th.
Track Listing:
Work Sucks
Medicine Girls
I Don't Want Your Money, Honey
I Know You Want It
Bacon Torpedo are available at BandCamp and Spotify.
Watch the trailer here: