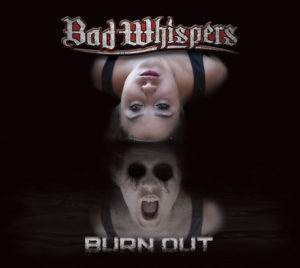 Sometimes it's hard to start to write a review. I mean, most of the times the problem isn't with the band, it's with me. I say that because I usually listen to an album more than once, sometimes twice, or more than three times that if I really like the album and the band. The real problem is that when I really like I don't recall exactly what I liked because I just go listening, I mean I just listen. To write a review one must listen with the ears of a reviewer, so one must pay attention to the details, to the things that jump to the eye or the ears. It's a complete diferent kind of listening, if you ask me. It's rare for me to rule a band out, but it does happen. Other times I like so much that I just go on and on and don't pay the needed attention. That's exactly what happened to Bad Whispers and "Burn Out" an album that I loved so much that I kept listening to it without paying any attention.
I have to say that "Burn Out" is the perfect expression of a reinterpretation of the classics giving the modern touch of the band. Musicwise Bad Whispers play as if they were in the 1970s due to the songs with lots of guitar leading phrases. Most of the album follow this traditional way of playing Heavy Metal. The modern touches go with the vocals and the shoegazed guitars in the middle of the songs. "Alone in the Desert" tells us that story pretty well. It's fantastic how the band combines both elements making the song an exciting piece to listen to. Opening track "Nothing To Hope" does a pretty decent invitation card as well introducing the fan to the band. It also amazing how guitarists Jo and Chris go along with the pentatonic guitar techniques. The bright of their sonancy is there on the technique. It makes the guitars sound thick and full and pretty heavy.
From "The Beast" on the album looses a little of the puch it had in the beginning. The sonancy now gets more like the 1990s rock, but as a matter of fact, it doesnt compromise the album. Even the ballad "Now and Here" sound pretty tough. It happens sometimes, maybe the album took a long time to be recorded and got songs from different phases, or the members share the writing.
I confess that I'm avoiding bands with the label Rock or Alternative something, but as I know most of the bands that come along with these labeling aren't the real deal – for good! – I take a listen first. Bad Whispers weren't exactly a surprise, but I'm really happy I gave them a try.
Bad Whispers "Burn Out" was independently release on June 09th.
Track Listing:
Nothing to Hope
Burn Out
Go Home Tonight
Burning Wings
Alone in the Desert
Lost in Your Eyes
Your Ride
The Beast
Get You Back to Me
Now and Here
Pretty Woman
Hell Will Be My Reward
Goodbye
Watch "Burn Out" official video here:
928