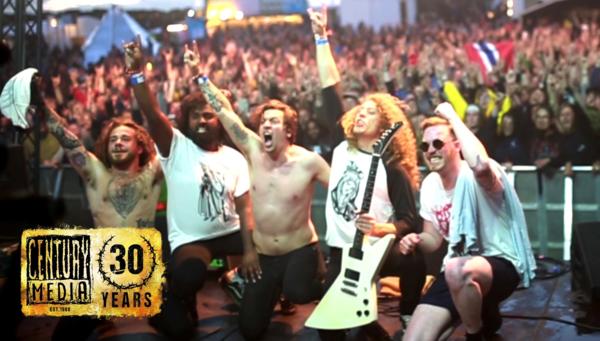 Danish death metallers BAEST presents 'Ego Te Absolvo', the third single taken from their forthcoming debut album "Danse Macabre". Set for release on August 17th, 2018 on Century Media Records, "Danse Macabre" offers an intense Messe Macabre uniting influences from the likes of Bloodbath, Dismember, Bolt Thrower, Entombed and 90's Morbid Angel.
BAEST comments: "Ego Te Absolvo – I absolve you. (Mortui Vivos Docent. Learn from the dead.)
The last track of "Danse Macabre" frees the human shell from its shackles, and condemns its pathetic remains to eternal solstice. Prophecies and promises crushed by thundering truth. Heresy is forever."
Filmed by Jens Karlsson and Lasse Rønne at several shows and also edited by Lasse Rønne, the 'Ego Te Absolvo' video throws you right into the explosive live shows of BAEST, bringing their ferocious Messe Macabre straight to your home – crank it up!
Formed in 2015, BAEST played over 40 shows within the quintet's first year of existence, quickly turning heads due to their windmill headbanging skills and ferocious frontman Simon Olsen. Previously, BAEST performed at Copenhell, Roskilde, Royal Metal Fest, Eurosonic and supported bands like Hatebreed, Dying Fetus, Entombed A.D. and Illdisposed, in 2018 they will play at Summer Breeze, various Danish festivals, do a Denmark headlining tour and selected shows supporting Abbath in Germany and The Netherlands.