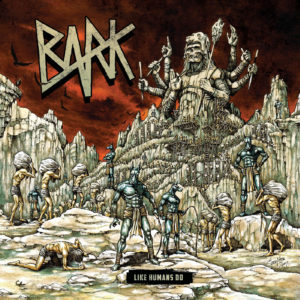 Bark are an unlike band. "Like Humans Do," their second effort, isn't really uncanny. Bark got the good old thrash metal, added some moody atmospheres, slowed down a little the tempo, and presto!, here's "Like Humans Do." 
The two very first tracks of "Like Humans Do" have a strong taste of what was called 1980's crossover. "Like Humans Do" and "Aftermath" are definitely two good examples of how bands mixed the good old Heavy Metal with hardcore. An angry and powerful voice, streghthful guitar riffs, pounding bass and strong drumming in a medium tempo, much more 1970's punk than metal are some examples of how Bark conduct things. The average two minute song throught "Like Humans Do" is also a punk characteristic, but with sharp and precise guitar solos. 
From "My Heart Is A Bone" on things change a little. Songs get slower and more cadenced adding some uncanny atmospheres. I guess Sepultura is a great influence to Bark. These songs have the same vibe that some songs of "Arise," specially when it comes to "A Tribute To San La Muerte." Songs are short, but in a greater or lesser extent, "Like Humans Do" is a complex album. Bark show all the complexity of their songwriting by bouncing the mood of songs. That's where we feel how Bark can be complex. There are different moods throught "Like Humans Do." "Dog Life" and "Speak To The Dead" are also songs that show that the mix and cadence Bark prefer is alright. In my opinion the best from "Like Humans Do."
"Like Humans Do" is as complex as thrash metal, but raw and direct as hardcore punk. It's an effort that won't disappoint thrash metal, crossover, and even hardcore fans. We missed a lot bands like Bark. Bands that could bounce from those different styles and take all the great stuff they offer us.
"Like Humans Do" isn't a bone to listen! Sorry, I couldn't resist!
"Like Humans Do" will bark to the moon on November 10th via Sound of the Hound Records. Sorry, I couldn't resist again!
Track Listing:
It's All In Your Head
Aftermath
Last Man Standing
Hollow Words
Cannibal Law
My Heart Is A Bone
Like Humans Do
A Tribute To San La Muerte
Freedom To Hate
Wild Thing
Dog Life
No Shelter
Speak To The Dead
Watch "It's All In Your Head" official video here: