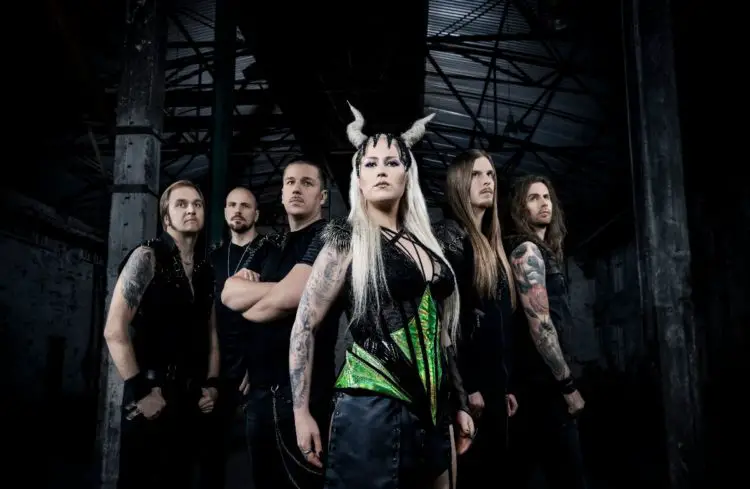 Circus is coming to town…
Doom metal? Certainly not. Circus metal? Oh, there you go!
The story does not tell whether such a metal genre was actually invented on a larger scale before, but if so, then feel free to blame ignorance when we declare that Finnish sextet BATTLE BEAST – Noora Louhimo (vocals), Janne Björkroth (keyboards), Joona Björkroth (guitar), Juuso Soinio (guitar), Eero Sipilä (bass) and Pyry Vikki (drums) – are the seminal magical kings of circus metal.
Now, read even more carefully: if you are looking for your daily dose of symphonic heavy metal, that is also catchy, cheerful, theatrical, adventurous, groovy and enchanting, you can stop searching here and now. »Circus of Doom«, the hard rocking sixth studio album by BATTLE BEAST, takes you aboard a mesmerizing roller coaster ride that you never want to end.
"We decided to name the new record after the opening track. 'Circus of Doom' is a big-sounding, adventurous and rather complex song and as such it reveals a lot about the newcomer as a whole – of course keeping in mind that one track can never reflect the album itself", says keyboardist Janne Björkroth, who, as usual, is also responsible for the new album's powerful and dynamic production.
"One of our ideas was that this song – like the whole record – reveals new details, perspectives, references and nuances over and over again as the listener returns to the record's world…"
Although the title track of "Circus of Doom" is an unbeatable massive burst of different moods, it is still just the beginning of a real, full-album adventure. "Overall, our definitive goal was to make an interesting, versatile and absorbing work of heavy metal art, which benefits from captivating and powerful production. We wanted both a little bit lighter party songs and evidently heavier bangers and everything in between."
"In terms of lyrics – Noora interprets them remarkably expressively! –, we also strived for versatility. So it's not a strict concept album around "circus themes" or anything else", states Björkroth and goes on: "'Master of Illusion' is a story about a greedy, self-centred and narrow-minded human who sows destruction around them – eventually drifting into a dead end. The story is subject to interpretation, and the central character can be the other party in the relationship, a politician dealing with worldwide issues or something else."
"Where Angels Fear to Fly' on the other hand tells of those who have made the world a better place for all of us. The song is also dedicated to anyone who has faced for example belittling, discrimination, or prejudice in their lives. Then 'Place That We Call Home' is a song about finding your place in the world, flavoured with a dose of mysticism. These, of course, only serve as a couple of examples."
When one gets to open the curtains of "Circus of Doom" properly, it soon shows its true face: it is a musical and lyrical entity that showcases BATTLE BEAST at its best so far. And if you happen to know the past of this talented band even remotely, saying such a thing raises the bar quite a bit.
"In many ways, 'Circus of Doom' still sounds exactly like our older battle hymns: infectious melodies, grandiose emotions, intriguing solos and ambiguous lyrics are still there. However, as we have done in particular with the previous two albums »Bringer of Pain« (2017) and »No More Hollywood Endings« (2019), we have also boldly brought in new flavours and twists – for both song writing and production", nods Björkroth.
And what's next for BATTLE BEAST? The band will hit the touring merry-go-round to bring the live version of the new album tracks to a city near you!
"After such an intensive recording project and after such a period of time in general… Well, I can definitely speak on behalf of the whole band when I insist that we are simply starving to perform in front of our devoted fans everywhere", smiles Björkroth. "Would I already dare say that upcoming concerts are going to sound and look really good? Hell yes! As we speak here, we are preparing an ambitious dystopian horror-themed carnival show that will match the strong visuals of the new album… So please enter 'Circus of Doom' – both the record and the performances – if you want to experience an adventure of a lifetime!"
"Circus of Doom" was once again recorded at JKB Studios in Helsinki, Finland and produced and mixed by keyboardist Janne Björkroth, while the stunning artwork was created by Jan Yrlund (KORPIKLAANI, MANOWAR etc.), who already took care of BATTLE BEAST's previous two album designs.
After reaching +200 million streams and three #1 in the Finnish charts, BATTLE BEAST and their charismatic frontwoman Noora Louhimo aim to conquer the world with their new album "Circus of Doom."
Read our review here.