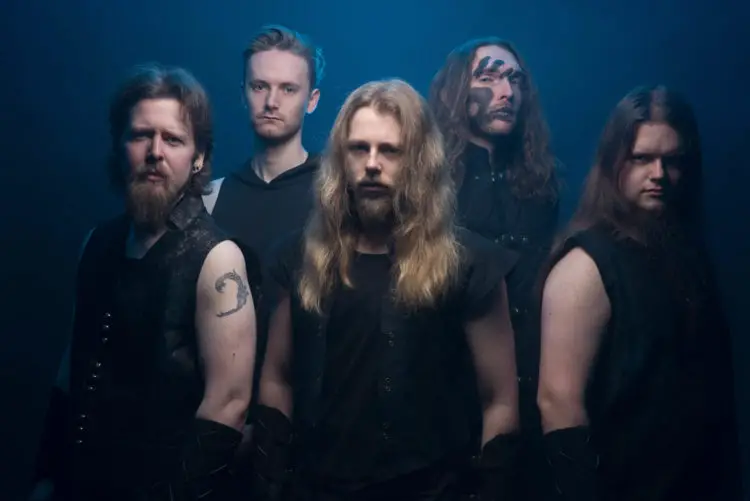 The UK's power metal scene may be small but its fans are fiercely dedicated – and with good reason. There are quite the number of bands carrying the mantle since Power Quest lay down the gauntlet nearly twenty years ago (Control the Storm, Dakesis, Pythia to name a few). Next in line for the throne are Battle Born, who are proud to announce their Skyrim-inspired self-titled début EP, though they are far from new to metal.
The group are unabashed in their intentions – euphoric anthems that get their hooks from first moment, and yet also have the staying power to withstand repeat battering of the replay button. They only have five songs to leave an impression, but each brings its own flavor and identity. The quintet all play their part – for instance, Jack Reynolds' theatrical vocals are captivating, whether in falsettos and heavy metal screams or duetting on beautiful lighters-in-the-air ballads to make Dreamtale proud.
Their music is firmly on the European side of the power metal spectrum, and influences from Finland, Sweden, Germany, and their homeland (no, not Skyrim) all do battle. The two opening salvos feature thundering guitar work rollicking with keyboard stabs à la Twilight Force and Battle Beast, letting the world know a new hero is born, while dragon-fighting stomper "Man of War" could comfortably have lived on 80s hard rock radio alongside Judas Priest. Rounding out on a powerful finale, "Sovngarde Awaits" brings home every element atop pounding drumwork as the musicians ride towards the Hall of Valor – ending on a cinematic note as they finally ascend with one last chorus.
Battle Born have crafted a faultless opening serve to power metal, and the UK metal scene at large. Carried by the spirit of the Nords, it is only a matter of time before the warriors will reach even greater heights and slay even bigger foes.
Stream the track "Battle Born" here:  https://legacy.de/exklusives/2423-exklusiv-battle-born-praesentieren-neuen-song-battle-born.html
Battle Born are:
Jack Reynolds – Vocals (also in Bykürius and Asira)
Will Kerr – Guitars, Keyboards
Tom O'Dell – Guitars, Vocals (Track 4) (also in Dwarrowdelf and Deavhronun)
Chris Beattie – Bass
Charles Lamacraft-Perrett – Drums
Extra guitars from Ethan Bishop (Asira/Bykürius/Cairiss on Tracks 3 and 4)
Read our review here.