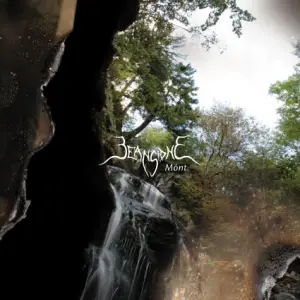 Beansidhe is a Swiss extreme metal band and this is their third album. It's such a pity that the release I received doesn't include the songs' lyrics. I say that because it's not just me that don't understand a word of the dialect they sing! The lyrics would make it easy to guess what they are all about. But it does give a hint: the songs are about nature and men's spiritual elevation to deity. Great bet! But no word about the musicians either. On their Facebook's page, I could realize there are five of them, but no word about who plays what.
My opinion is that if the band had explored more kinds of vocals as they did with the instrumental parts, "Mónt" could have been remarkable! But, I know, you don't have to tell me, it's the price for choosing the extreme metal way. Nonetheless, it's possible to have various kinds of vocalizations even in an extreme metal band. Ok, it would have taken much more work, but the result would be fantastic. "Febraar", the official Youtube video, shows it nicely. Sometimes I notice that bands feel obliged to follow some kind of rules on how to write songs. There are no rules, boys and girls, if you allow me to say! Do what you please!
Let's go on. The guitars go through a path full of lyricism and creativity which shows that they learned very well how to be strong, heavy, but at the same time delicate. But I missed the solos throghout "Mónt"! Well, it's forgivable just because the guitar work chose to focus on rhythm which turned out to be very good showing intensely the proposal made. Beansidhe guitars' team show a world sometimes made of fuzz and madness with moments of fear and despair, but, and that's the nice thing, full of unspeakable beauty.
Even though, it was such a pleasure to listen to the 6 tracks! And congrats to the art cover!
This Beansidhe album, Mónt, will be released on July 28th, 2016 by Via Nocturna.
Track listing:
Mónt
Spazi
Mórt
Féras
Febraar
Diàvól
Just a short glimpse!