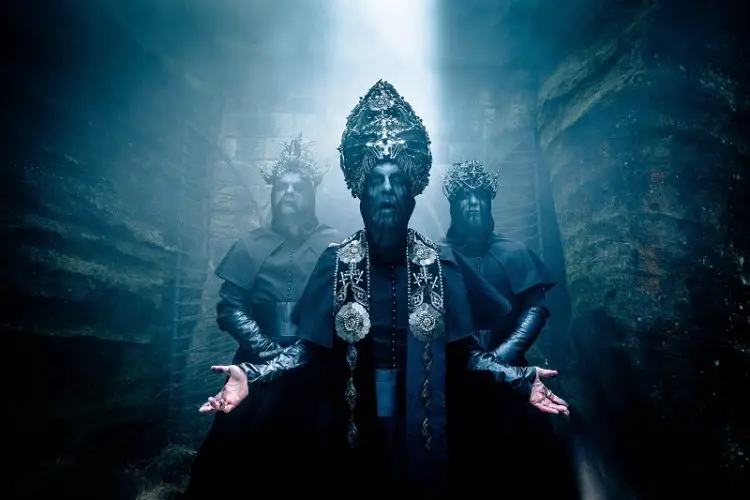 On October 5th, black/death overlords BEHEMOTH will unleash their new album, I Loved You At Your Darkest, upon the world via Metal Blade Records (North America) / Nuclear Blast (Europe). In anticipation of this record's release, two I Loved You At Your Darkest listening parties will take place next month in New York and Los Angeles – featuring front-man Nergal in-person! Be the first to hear the album before release date and RSVP now at: [email protected] (NYC – September 11th @ Vandal) or behemothpartyl[email protected] (Los Angeles – September 13th @ State Social House).
Due to high demand, both the NYC and LA venues have been changed, to accommodate more fans. RSVP is still required for both events, but admittance is on a first-come, first-served basis – so arrive early! See event flyers for more details.
I Loved You at Your Darkesttrack-listing:
1. Solve
2. Wolves ov Siberia
3. God = Dog
4. Ecclesia Diabolica Catholica
5. Bartzabel
6. If Crucifixion Was Not Enough…
7. Angelvs XIII
8. Sabbath Mater
9. Havohej Pantocrator
10. Rom 5:8
11. We Are the Next 1000 Years
12. Coagvla
This October/November, BEHEMOTH will hit the road across North America to headline the "Ecclesia Diabolica America 2018 e.v." tour, featuring special guests At the Gates and Wolves in the Throne Room. This must-see show will also make its way to Europe in January/February 2019. See below for all dates!
Behemoth tour dates
Sept. 9 – Lodz, Poland – Summer Dying Loud
Behemoth "Ecclesia Diabolica America 2018 e.v." tour dates
w/ At the Gates, Wolves in the Throne Room 
Oct. 20 – Phoenix, AZ – Van Buren
Oct. 22 – Dallas, TX – House of Blues
Oct. 23 – San Antonio, TX – The Aztec Theatre
Oct. 24 – Houston, TX – House of Blues
Oct. 26 – Atlanta, GA – Masquerade
Oct. 27 – Tampa, FL – Jannus Landing
Oct. 29 – Charlotte, NC – The Underground
Oct. 30 – Philadelphia, PA – The Fillmore
Nov. 1 – Boston, MA – House of Blues
Nov. 2 – Silver Spring, MD – The Fillmore
Nov. 3 – New York, NY – Playstation Theater
Nov. 4 – Montreal, QC – M-Telus
Nov. 6 – Toronto, ON – The Danforth Music Hall
Nov. 7 – Detroit, MI – St. Andrews Hall
Nov. 9 – Chicago, IL – House of Blues
Nov. 10 – Minneapolis, MN – Cabooze
Nov. 11 – Kansas City, MO – The Truman
Nov. 13 – Denver, CO – The Ogden Theatre
Nov. 14 – Salt Lake City, UT – The Depot
Nov. 16 – Calgary, AB – MacEwan Ballroom
Nov. 17 – Edmonton, AB – Union Hall
Nov. 19 – Vancouver, BC – The Commodore Ballroom
Nov. 20 – Seattle, WA – Showbox Market
Nov. 21 – Portland, OR – Crystal Ballroom
Nov. 23 – San Francisco, CA – The Regency Ballroom
Nov. 24 – Los Angeles, CA – The Wiltern Theatre
Behemoth "Ecclesia Diabolica Evropa 2019 e.v." tour dates
w/ At the Gates, Wolves in the Throne Room
Jan. 10 – Frankfurt, Germany – Batschkapp
Jan. 11 – Munich, Germany – Tonhalle
Jan. 13 – Vienna, Austria – Arena
Jan. 15 – Zurich, Switzerland – Komplex 457
Jan. 16 – Milano, Italy – Alcatraz
Jan. 17 – Lyon, France – Le Transbordeur
Jan. 18 – Barcelona, Spain – Razzmatazz
Jan. 19 – Madrid, Spain – La Riviera
Jan. 21 – Toulouse, France – Le Bikini
Jan. 22 – Paris, France – Bataclan
Jan. 23 – Oberhausen, Germany – Turbinenhalle
Jan. 24 – Berlin, Germany – Huxleys
Jan. 25 – Copenhagen, Denmark – Vega
Jan. 26 – Stockholm, Sweden – Annexet
Jan. 29 – Helsinki, Finland – The Circus
Jan. 30 – Tampere, Finland – Pakkahuone
Feb. 1 – Hamburg, Germany – Grosse Freiheit 36
Feb. 4 – Esch-sur-Alzette, Luxembourg – Rockhal
Feb. 6 – Bristol, UK – Motion
Feb. 7 – Birmingham, UK – O2 Institute
Feb. 8 – London, UK – O2 Forum Kentish Town
Feb. 9 – Manchester, UK – O2 Ritz
Feb. 10 – Dublin, Ireland – Vicar Street
Feb. 11 – Glasgow, UK – QM Union