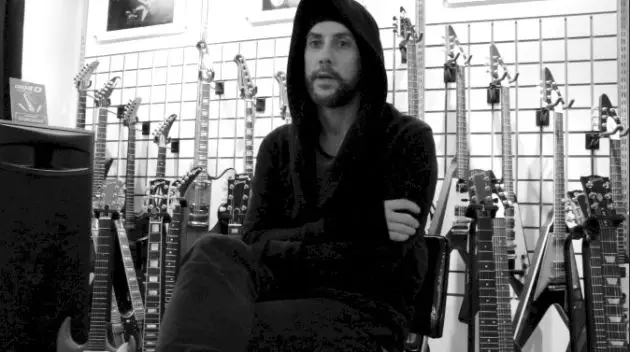 BEHEMOTH frontman Adam "Nergal" Darski has been formally charged by Polish authorities for allegedly disrespecting one of the country's national symbols.
The case, referred to court by the District Prosecutor's Office in Gdańsk, northern Poland, involves the band's "Republic Of The Unfaithful" tour artwork and merchandise, which is said to be "insulting" to the national coat of arms of Poland, a stylized white eagle with a golden beak and talons, and wearing a golden crown, in a red shield.
An expert on heraldry and iconography has determined that the tour's artwork featured "a distorted image of Poland's national emblem," according to the prosecutor's office.
The artwork "included elements and symbols considered Satanist and anti-Christian, with the aim of conveying content far removed from the historical and state ideology," the prosecutor's office said.
Nergal and Maciej G., who, as the band's webmaster, promoted the tour online, both stand accused of publicly affronting the Polish national emblem, which carries a maximum sentence of one year in prison. Also charged is Rafał Wechterowicz, the graphic artist who worked on the BEHEMOTH artwork.
This is the latest development in the legal case following an initial complaint filed with the prosecutor's office last September by Marek Dudziński and Ryszard Nowak, both of whom are representatives of a religious organization called Ogólnopolski Komitet Obrony Przed Sektami (English-language translation: National Defense Committee Against Sects or All-Polish Defense Committee Against Sects And Violence).
Nergal, who has pleaded not guilty to the charges, commented on the case in an Instagram post. He wrote: "Well… this is the first thing that hits me after coming back from a relaxing and sunny holiday trip. Me and two other dudes are accused of profaning Polish emblem. What a bummer! PiS-driven Poland [Editor's note: PiS is a right-wing populist, national-conservative, and Christian democratic political party in Poland] is trying its best to nail my ass down… as an example, I guess. But first thing is: it is NOT a Polish emblem. Second… let's leave those arguments for the court case which is to begin shortly! Is there limits to their obscurity and blindness? Bring it on!"
Source: Blabbermouth.net