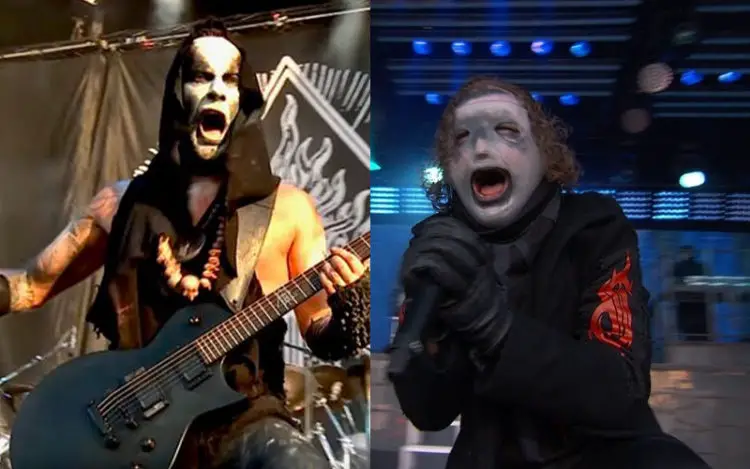 BEHEMOTH frontman Adam "Nergal" Darski was interviewed by RadioactiveMike Z, host of the Riverside, California radio station 96.7 KCAL-FM program "Wired In The Empire."
When talking about touring with SLIPKNOT, GOJIRA and VOLBEAT, he said: "It's pretty much a European bill, which is cool. I really like the bill, because it's very diverse, the fact that we come from all sides of the world, really. Even [for] Europe, it's like, Denmark, Poland and France. It's spread out, so it makes it even more interesting and exciting, I believe.
"It's cool. One of the coolest things, I remember, when we were talking budgets, the first things we heard from [the] SLIPKNOT camp was, 'Hey, we're going to be generous when it comes to [your] offer, but we want every band to look amazing.
"We want every band to bring something to the table.' I really respect that kind of attitude. It feels good to have a band that actually cares. They care about you. They want you to look good. It's not a competition. It's a family vibe. It's supposed to be a family vibe — four different, very diverse bands on the same bill. Amazing."
Speaking about his first impressions on SLIPKNOT: "I think I just saw some videos. I wasn't hooked right away. I remember there was hype for SLIPKNOT right after the first album. I heard Iowa and I was sold, I was like, 'Okay. Wow.' I did get back to the first record, but I'm, like, 'Nah. It's not [for] me,' but ever since 'Iowa', I've [heard] every album and I pretty much have favorite songs on every record, 'Psychosocial', the title song of 'All Hope Is Gone.'
"The title song is one of my favorite SLIPKNOT songs ever. [It's] kind of [a] pity that they are not playing this one [on the 'Roadshow' tour]. 'Before I Forget', 'Devil In I'. There's, like, three singles now off the new record. The second is my favorite, and they are playing that song. I'm not really the best when it comes to titles, but they are playing this one and it's amazing. The album comes out [soon], and I'm really, really psyched to hear the whole of it…
"Let me put it that way, every time I get to meet the mixing guy or production guy for the next BEHEMOTH album, I bring either Iowa or [SLAYER's] God Hates Us All. These two are my most referred albums when it comes to BEHEMOTH productions on so many levels. I'm not saying that we want to copy that, [but] there's a vibe, there's something absolutely untamed on both records. It's awesome."
You can get the tickets for "Knotfest Roadshow" at this location.