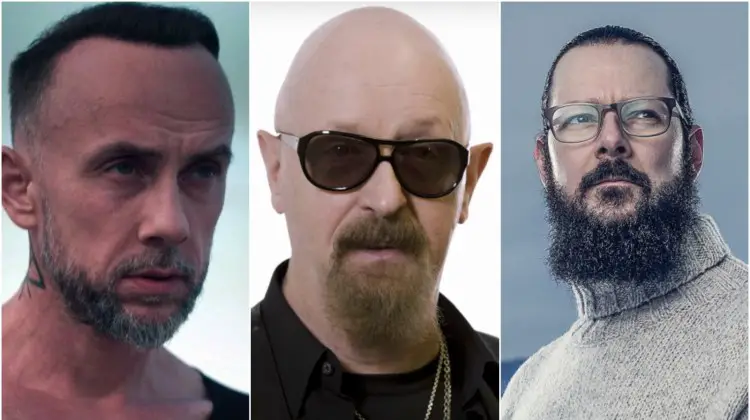 BEHEMOTH frontman Adam "Nergal" Darski says that he is definitely open to the idea of collaborating with JUDAS PRIEST singer Rob Halford and EMPEROR's Ihsahn on a black metal project.
"I'm just waiting for [Rob's] call," Nergal told Elliott Fullam of Little Punk People in a brand new interview (see video below). "I mean, if he says, 'Hey, I'm ready', if we're touring with SLAYER again ever or METALLICA, I have to drop that tour and just f*cking run to Phoenix, or wherever Rob is living, and f*cking work my a—s off to bring the best song I can afford, so he can sing there. And I'm trying to sound funny, but the truth is that me and Ihsahn would love to do some music and we would love for Rob Halford to do some vocals over it. That'd be… that'd be beyond cool."
Asked if he has ever met Rob, Nergal said: "Yes, we met a couple of times. We just met at Wacken, a German festival, a couple of weeks ago. Again he was super cool, very friendly. One of the most humble human beings you'll meet ever is him. And considering his status, who he is, what he did to this genre, to heavy metal, it only makes you even a bigger fan of that person."
Halford has long spoken about wanting to work on a black metal album, revealing more than a decade ago that he had discussions with Ihsahn about doing something together.
Earlier this year in an interview with Noisey, Halford revealed his plans to write a black metal album with Nergal. He's also really hoping to get together with Ihsahn at some point to do something, considering he says EMPEROR's Anthems To The Welkin At Dusk is his "big Emperor album."
"The black metal project! It keeps being about to lift the launchpad, but it never quite gets anywhere. I met Nergal from Behemoth recently, and I said to Nergal, 'You know I love your kind of music. I would love to kind of put my toe into the water and see what would happen.' So now I've got these two very nebulous but I hope at some point very real opportunities to do something with Nergal and still something to with Ihsahn. Anthems to the Welkin at Dusk, that's my big Emperor album. Both of them are incredible—they just have this real mastery of their world."