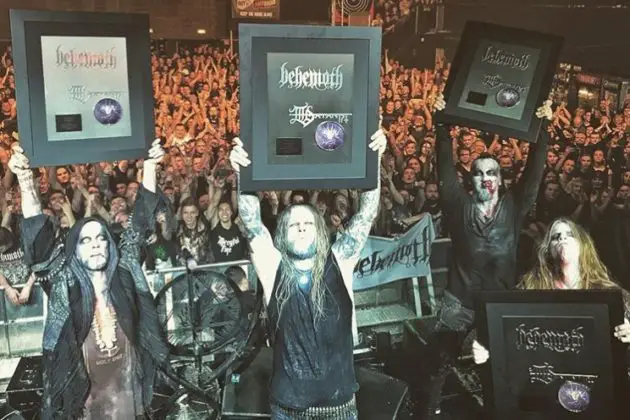 BEHEMOTH's latest album, "The Satanist", was certified gold in Poland for selling 15,000 copies.
BEHEMOTH's frontman Nergal posted on Instagram regarding the award: Yo. I just woke up… a lil hangovered. I put a lot of weird substances into my body last nite I must confess. I was on fire during and after the show, But I'm excused no? It was one of the best days in my career… I'm gonna wrap up the whole story and show some amazing photos again soon… tmrw hopefully. But ad hoc, yesterday on stage we announced that "The Satanist" was certified GOLD in Poland for selling 15k copies!!!
Thank u Michal Wardzała and Mystic! Thank u Inferno, Orion and Seth for camaraderie and company in good and bed times. Thank YOU ppl for BUYING the record and keeping the flame alive!!! Shit… I'm still digesting the awesomness of last nite… "
"The Satanist" sold around 10,000 copies in the United States in its first week of release to debut at position No. 34 on The Billboard 200 chart.