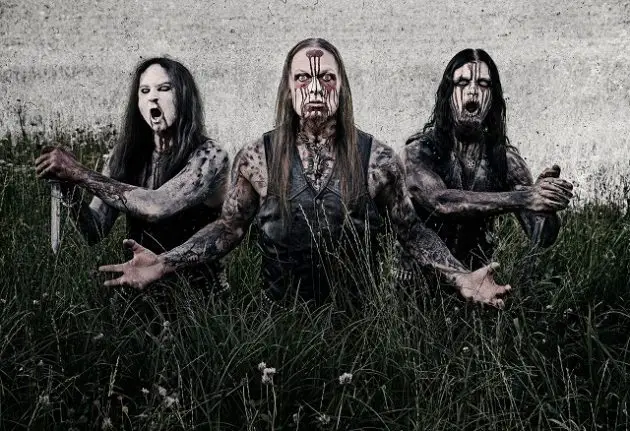 Diabolical Death/ Black Metal troop BELPHEGOR are premiering the official music video for "Baphomet", taken off their unleashed new masterpiece "Totenritual". Check out the official video below.
The band said about the new video:
"The arrangement deals with the duality of life: Man/Woman, Death/Life, Fire/Water, Human/Demon, Love/Hate. It is also about discipline, freedom and the will to walk your own path 'alone' without letting someone else decide things relating to your life. Its essence is purity in solitude. When two become one, all is silent. There have been many old rituals for understanding Baphomet since it is not a deity to be summoned, but rather one to become. There are influences from these rituals in the text, which is the reason why it is written in the first person perspective. Non mortuum, Non vivit, There is only me. Ego sum!! Expect evil incarnated in audio and visual form."
"Totenritual" Track Listing:
1. Baphomet
2. The Devil's Son
3. Swinefever – Regent Of Pigs
4. Apophis – Black Dragon
5. Totenkult – Exegesis Of Deterioration
6. Totenbeschwörer [Instrumental]
7. Spell Of Reflection
8. Embracing A Star
9. Totenritual
Tour Dates:
28.09.2017 – DEN – Copenhagen, Pumpuheset
04.10.2017 – GER – Weinheim, Café Central
05.10.2017 – GER – Oberhausen, Helvete
06.10.2017 – BEL – Bruges, Het Entrepot
07.10.2017 – BEL – Marbehan, Salle du Bois Isles
08.10.2017 – UK – London, The Dome
10.10.2017 – UK – Glasgow, Audio
12.10.2017 – IRE – Belfast, Limelight 2
13.10.2017 – IRE – Dublin, Voodoo Lounge
17.10.2017 – FR – Marseille, Jas' Rod
18.10.2017 – CH – Lucurne, Schuur
20.10.2017 – AUT – Graz, Xplosiv
BELPHEGOR will soon reveal the remaining Rituals and cities along this tour of brutal Death/ Black Metal cremations!!
BELPHEGOR – Rituals 2017:
23.07. I Brescia – Colony Open Air
02.08. A Vienna – Jolly Roger Festival
18.08. D Dinkelsbühl – Summer Breeze
24.08. D Crispendorf – Wolfszeit Festival
26.08. CZ Brezova u Sokolova – Brezovska Metalova Noc X
15./16.12. S Norrköping – Black Christmas