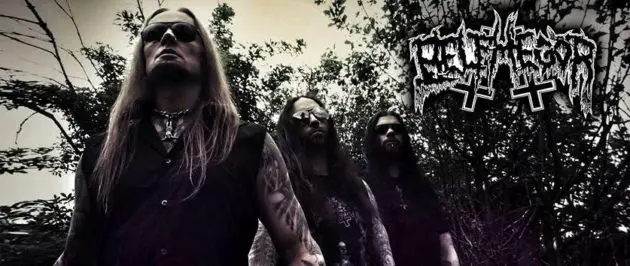 Diabolical Death/Black Metal troop BELPHEGOR have released their debut new single entitled "Baphomet" just in time for the "TOTENRITUAL" pre-order launch. Check out the lyrics video for the track "Baphomet" below.
"Baphomet" is a track off the upcoming, highly-anticipated eleventh BELPHEGOR record entitled "TOTENRITUAL", which will be released on September 15th, worldwide via Nuclear Blast Records!
Helmuth comments: "This LP is the most brutally heavy offering we have consecrated thus far, everything pushes the limits of anything we have done before. It is highly appreciated when people enjoy our legacy, the possession, the magick surrounding and within BELPHEGOR!'Baphomet', is a brutal neck-breaking hellride. Push play and crank your speakers to the max!!"
"Totenritual" Track Listing:
1. Baphomet
2. The Devil's Son
3. Swinefever – Regent Of Pigs
4. Apophis – Black Dragon
5. Totenkult – Exegesis Of Deterioration
6. Totenbeschwörer [Instrumental] 7. Spell Of Reflection
8. Embracing A Star
9. Totenritual
Tour Dates:
28.09.2017 – DEN – Copenhagen, Pumpuheset
04.10.2017 – GER – Weinheim, Café Central
05.10.2017 – GER – Oberhausen, Helvete
06.10.2017 – BEL – Bruges, Het Entrepot
07.10.2017 – BEL – Marbehan, Salle du Bois Isles
08.10.2017 – UK – London, The Dome
10.10.2017 – UK – Glasgow, Audio
12.10.2017 – IRE – Belfast, Limelight 2
13.10.2017 – IRE – Dublin, Voodoo Lounge
17.10.2017 – FR – Marseille, Jas' Rod
18.10.2017 – CH – Lucurne, Schuur
20.10.2017 – AUT – Graz, Xplosiv
BELPHEGOR will soon reveal the remaining Rituals and cities along this tour of brutal Death/ Black Metal cremations!!
BELPHEGOR – Rituals 2017:
23.07. I Brescia – Colony Open Air
02.08. A Vienna – Jolly Roger Festival
18.08. D Dinkelsbühl – Summer Breeze
24.08. D Crispendorf – Wolfszeit Festival
26.08. CZ Brezova u Sokolova – Brezovska Metalova Noc X
15./16.12. S Norrköping – Black Christmas