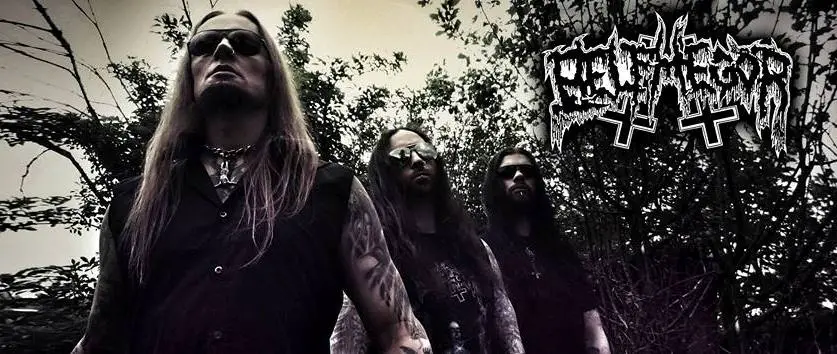 Europe's crushing death/black metal tank, BELPHEGOR, are set to burn down European stages once more in December 2016! The "Evil Over Europe" double headliner will also feature POSSESSED, the godfathers of death metal. This trek is shaping up to one of the most extreme ones in this genre, plus the package will be completed by American black metallers ABSU and also US-based metallers FROM HELL. Additionally, COLD RAVEN and SARIOLA could be won as opening acts. Both, BELPHEGOR and POSSESSED, will be rotating as headliner each night, both playing one-hour sets. Do not miss this tour of legends!
Helmuth commented:
"Ave! BELPHEGOR will siege Europe with full gear and artillery! Be prepared Europe, do not miss these diabolical ceremonies."
Order BELPHEGOR's current record, "Conjuring The Dead", here.
December 2016 Tour Dates:
02.12 – Paris, Glazart – FRA
03.12 – Brescia, Circolo Colony – ITA
04.12 – Zurich, Dinamo – SUI
06.12 – KOsice, Collosseum – SVK
07.12 – Ljubljana, Kino Siska – SLO
08.12 – Ostrava, Barrack Club – CZE
09.12 – Wroclaw, Alibi – POL
10.12 – Berlin, Nuke Club – GER
11.12 – Tilburg, Dudok – NLD
12.12 – Glasgow, Classic Grand – UK
13.12 – London, Islington Academy – UK
14.12 – Oberhausen, Helvete – GER
15.12 – Ludwigsburg, Rockfabrik – GER
16.12 – Ingolstadt, Eventhalle Westpark – GER
17.12 – Bruges, Entrepot – BEL
18.12 – Hamburg, Logo – GER
19.12 – Flensburg, Roxy – GER
20.12 – Erfurt, From Hell – GER