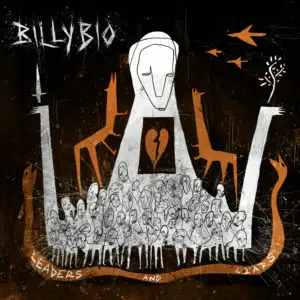 Wow, it's been four years that we had the pleasure of reviewing 2018's "Feed the Fire" the first Billybio album I had the opportunity to review. Though it's been all this time the feeling is still fresh on my mind because I have mixed emotions about Punk Rock and the album swept them away. In my twisted mind Punk Rock was an even easier pray to the music industry than Metal was in the past. I'll elaborate. It was easier to make Punk fashionable and sell it as the next 'imortal' tendency because Punk values were clearer and more defined than Metal's. The press saw it as an opportunity to create something really 'new' and 'fresh' and ready to be sold. I don't all Punk bands, of course. Many of them contnued to be underground and out of anything related to the fashion world. But the ones which succumbed did a big friking favor the man, if you know what I'm saying. I'm talking about classic Punk Rock bands from the 1970s and early 1980s. The others I just don't count.
Ok, then, "Feed the Fire" was the first Billybio's album I had the opportunity to review as I mentioned before. It was an album that changed my mind a more modern Punk Rock. I don't know really why but this album convinced me that Punk's not dead. This "Leaders and Liars" tells me the same story. Punk Rock isn't a dead duck. It evolves. Of course, not in the same pace Metal evolves but it does. For the record, Metal music is now the biggest influence to Punk Rock as I had the opportunity to check from this album. Album opener "Black Out" sounds a lot more to Industrial Metal and to Ministry, for instance, than to GBH. There are lots of Modern Metal features in it making it more Metal than Punk or even Hardcore. In the other tracks Metal features go slowing down a little adding some more Hardcore elements. The thing that calls the eye much is the polished guitar work. Too polished to Punk Rock, if you know what I mean. Punk guitars are less polished and more visceral. Being extremely raw the most desired quality to a Punk band. Not only the guitars but also the bass and the drumming. This last one is very refined. However there is one think that interwaves all tracks from top to bottom and this thing is the spirit. The spirit of anarchy. The spirit of being fed up with all this. The spirit of the rebellion. That's the thing I appreciate more about Punk and Hardcore and the thing that makes me philosophically near them. The tittle of the album tells a lot about it.
Billybio "Leaders and Liars" will be released on March 25th via AFM Records.
Track Listing:
Black Out
Fallen Empires
Leaders and Liars
Lost Horizon
Turn the Wounds
Sheepdog
Deception
Generation Kill
Looking Up
One Life to Live
Our Scene
Just in the Sun
Enough
Remission
Cyanide
Watch official video here: