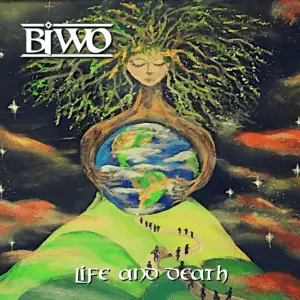 This week has been a paradise for NWOBHM bands. We're having lots of bands that are dedicated to this version of Metal music that many consider the more important and which has most influence on Metal bands all around this sad and lonely and pathetic little planet. As my dear child of the night may have noticed NWOBHM is the umbrella for many types and kinds of sonancies that are inspired on it. Though some don't recognize it as a musical movement because it wasn't organized as such, there are many common ground among the original bands and, of course, their legacy bands. One of them is the prominence of clean vocals. When I say clean vocals I say totally clean, sometimes it can be a little hoarse or raucous but always clean. I say that in contrast to guttural vocals that are the stapler of Extreme Metal. This clean vocals can go from the Bruce Dickinson's and others, all of them vocalists with a great pitch and vocal range. Others can have a very unique voice as Saxon's Biff Bifford. Though many bands are known for their musical prowness and abilities, many bands can't exactly be classified as virtuosi. In fact, many play by heart, not based on technique. I guess that's the most important feature for NWOBHM bands. Their music go far, very far, beyond their musical capabilities. All this just because today's review's subject is Biwo with "Life and Death" an album with great musical ideas from band that can't be considered to have virtousi musicians. Another common ground is the albums covers that emulate or really are oil paintings. Take a look at this "Life and Death" amazing album cover. It's also meaningful.
When I listen to a track as "Mother Earth" my mind flies away back to the 1980's to the first Metal albums that I remember to have listened to. The way the guitars are played address too much there. It's possible to feel that feeling and heart are far beyond technique. It's also possible to feel that musical ideas prevail prowness as the eight minute track goes by. Guitar phrases are simple, but very effective and melodic. No, it's not a sin to include melody in a Metal album. The problem is only if the melody is commercially oriented. "Poor Boy" is an acoustic track that is full of melody. But what I liked the most about "Life and Death" is the nostalgia it brings and how it connects to the fresh sonancy Biwo deliver. I caught myself flying away with "I" just remembering old songs I used to hear in my teens. I mean, I used isn't accurate, I started listening in my teens. Metal music has this incredible power of making us fly away with great joy.
Biwo "Life and Death" will be released on November 11th.
Track Listing:
Live Now
Fountain of Youth
Win This Fight
Mother Earth
Poor Boy
I
Alone in the Dark
Judgment of the Gods
Watch Biwo's official visuallizer here: