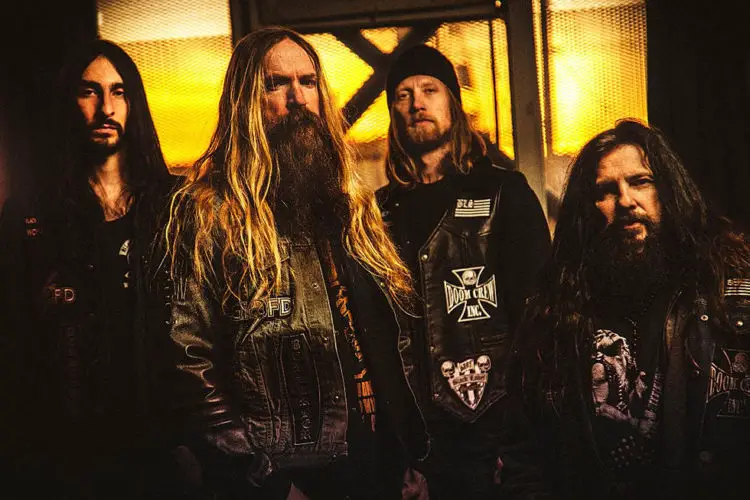 Heavy metal band BLACK LABEL SOCIETY lead by guitarist/singer Zakk Wylde  have announced the release of their first-ever career spanning box set, titled NONE MORE BLACK via Entertainment One. Featuring their to date 12 full-length studio albums, this massive collection is comprised of 20 all newly pressed vinyl and includes a compilation bonus tracks and reworked originals vinyl, Song Remains Not The Same Vol. 2. Also included is a beautifully made 32-page hardcover retrospective photo book, a NMB bottle opener, and an exclusive, "Odin's Demolition Squad" back patch to add to your BLACK LABEL SOCIETY vest.
To celebrate the release of NONE MORE BLACK, BLACK LABEL SOCIETY has dropped an official music video for their track "House Of Doom", the eighth track previously found on Hangover Music Vol. VI. Watch the video below:
Hangover Music Vol. VI is the fifth studio album by BLACK LABEL SOCIETY, released April 20th, 2004. This album is a much more mellow affair than any other Black Label Society album, and some fans have recognized it as a nod back to Zakk Wylde's solo effort, Book of Shadows, from 1996. The album contains a piano version of Procol Harum's 1967 No. 1 song "A Whiter Shade of Pale" and a song entitled "Layne", which is written in memory of Layne Staley of ALICE IN CHAINS.
Also, there's more… guitar icon and frontman Zakk Wylde has unleashed a hilarious infomercial for the occasion. Check out the video below. The limited quantity Boxset is now available to order in eOne's Heavy US, UK and EU stores here.
Vinyl Selections in Boxset:
Grimmest Hits 2LP
Stronger Than Death 2LP
1919 Eternal 2LP
The Blessed Hellride LP
Hangover Music Vol. VI 2LP
Mafia 2LP
Shot To Hell LP
Order Of The Black 2LP
Catacombs Of The Black Vatican 2LP
Nuns And Roaches LP
Sonic Brew 2LP
Song Remains Not The Same II 3LP
Bonus Tracks:
Song Remains Not The Same Vol. II
1. My Dying Time 
2. Blind Man
3. Graveyard Disciples
4. The Nomad 
5. Scars
6. House of Doom
7. A Love Unreal
8. We Live No More 
9. Cry Me A River
10. The Chosen One
11. Empty Promises
12. Lead Me To Your Door