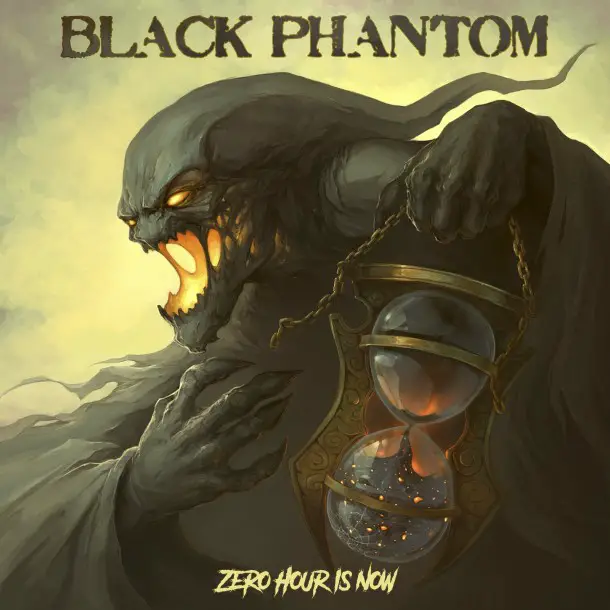 Zero Hour Is Now is the new full length album forged by the Italian rockers Black Phantom.  To review this album is a challenge.  First, they have been often classified as "traditional metal".  Although this album contains tracks that are made  from a metal sound that has a rich "tradition", it would be more apt to categorize them as practitioners of the New Wave of British Heavy Metal.  It is however, important to realize that they don't fall chronologically into the timeframe of NWOBHM and are not British, but their inspirations are undeniable.  Second, it is impossible to discuss Black Phantom without acknowledging their obvious love for and homage to Iron Maiden.  With swift, galloping bass guitar and vocals that are powerfully large and operatic, Zero Hour Is Now at times sounds incredibly similar to Iron Maiden.
The musicianship and prowess on this album is apparent from the beginning.  Black Phantom does not sound like a bunch of greasy faced, teenagers putting on their new battle vest for the first time attempting to play the music of their hero's from yesteryear.  Often, in metal today we hear newer or recently conceived bands attempting to revive older styles/sub genres of metal and breathe new life into it.  At times these attempts come off as a cheap facsimiles or they create  a Frankenstein monster of sorts that goes unloved and shambles out of control as a complete failure.  Black Phantom plays on Zero Hour Is Now with a confidence as though they lived through the NWOBHM the first time around, and have all the battle scars and legitimacy to prove it.  Certainly they do play on this album with an adulation for NWOBHM and particularly Iron Maiden but do so with most inspired efforts and they have the musical chops to back it up.
The opening track "Redemption" is the type of song that makes you want to jump in your car, put the windows down and drive fast.  It is a fun up tempo romp that starts slow then lays on the gas.  As it reaches top speed it drops back down and nestles onto the back of the galloping bass guitar that is so well know in this style of music.  Sadly, this song does give the first clues that Black Phantom lacks the guitar virtuosity that Iron Maiden has cultivated over many years.
"Schattenjager" is a reminder of how catchy and light this album can be.  This song was obviously written to draw in and win over an audience with its breakdowns and chants of "Schattenjager!".  In its strive to be anthemic, it may come across to purists as a hint fluffy and almost pushes it to the level of satirical and over the top.  However, metal can be a bit tongue in cheek, and damnit who doesn't want to raise their devil horns and shout "Schattenjager!"?
In listening to Black Phantom it is important to remember, they are not Iron Maiden.  That is not necessarily a bad thing.  Black Phantom is free to do things musically without scorn or being confined to pre-existing parameters set forth by an exhaustive body of work and an obsessive, long serving, fan base that are quick to violently shove a band with the popularity of Iron Maiden back into their allotted musical boundaries.  This is a concept Black Phantom may have yet to successfully explore further.  However, they do drift from a pure Maiden blueprint in the songs "Either You or Me" and "Begone!".  
"Either You or Me" does stray from the formula but falls a little short in its songwriting.  It is heavy, but unfortunately it leads the listener on a path to nowhere.  The instrumentation does however, showcase Black Phantom's obvious abilities as musicians.  These guys can really play.
The track "Begone!" almost feels like a strange 90's alternative/funk hybrid.  The vocals shift from a strong operatic style to a stunted, shortness of Faith No More or Love Among Freaks.  It tries to rally the listener once again to join in with the band and chant the song title, but come on, you cant top shouting "Schattenjager."  
Zero Hour Is Now is a really spirited, lively album made in the style of Iron Maiden.  Black Phantom is a band that is more than capable of this type of music and displays it well on this album.  Sometimes, their bar room style of songwriting does, in certain instances, lack depth.  It is an entertaining and pretty well crafted album for what it is.  It will be fascinating to see where Black Phantom goes from here once they are able to embrace and challenge their own identity.  Zero Hour Is Now is an excellent jumping off point.  Will this album find permanent rotation in a vinyl collection?  Probably not, but it is an amusing listen and worth a spin.
Track Listing:
Redemption
Hordes of Destruction
Schattenjager
The Road
Aboard the Rattling Ark
Either You or Me
Begone!
Hands of Time