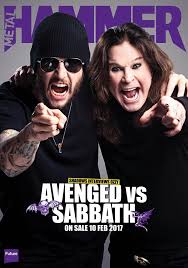 We all know that Metal Hammer has been for more than 30 years THE HEAVY METAL magazine on this planet. Unfortunatelly, due to major difficulties that all traditional midia had during this long period of accomodation to the new markets and new midia formats, it went down in 2016. But, for our own's sake, it came from the dead in 2017. And now, they hit it big! Golden Gods Awards 2017 in association with Orange Amplification are back again to honor our beloved Metal music and Metal bands.
Taking place at IndigO2 at The O2, London on Monday, June 12, the 2017 edition of the Metal Hammer Golden Gods Awards was hosted by WWE megastar and FOZZY frontman Chris Jericho, and like all Golden Gods shows, this year's event was all about the fans. There are no tables, no sit-down dinners, no industry backslapping — this is a room full of genuine fans who have voted in their hundreds of thousands to see their favorite bands be victorious. The night celebrated the best of heavy metal from the past twelve months as well as performances from some of the world's most exciting bands.
The godfathers of metal, BLACK SABBATH, collected the evening's main honor: the Golden God award presented by Roadrunner Records. Founding member and metal legend Tony Iommi was on hand to collect the gong in the year that saw the end of the band's final, 81-date world tour and glittering 49-year career.
MASTODON headlined the evening's ceremony with a blistering live set in what was one of their most intimate performances in years. Following the release of their acclaimed "Emperor Of Sand" album in March, the band's stock has risen monumentally to become one of the world's must-see live acts, proven by them winning Best Live Band presented by Monster Energy.
Opening the show were riff veterans ORANGE GOBLIN, one of the U.K.'s most vital and important metal bands. Frontman Ben Ward, along with his partner Sandie Soriano, were behind the incredible campaign to raise money for TeamRock (Metal Hammer's then-parent company) staff following the closure of Metal Hammer, Classic Rock and Prog magazines — and rightly the team behind those magazines felt that Ben and Sandie deserved the Defender Of The Faith award presented by Orange Amplification.
Sweden's AVATAR brought their catchy "circus metal" and enthralling theatrical live show to the proceedings. This truly unique band were also voted Breakthrough Band Of The Year presented by World Of Tanks, proving they are a band on the up. Completing the live lineup were blues rock legends CLUTCH, simply one of the greatest live bands heavy music has ever seen!
One of the evening's most sought-after awards is Album Of The Year and this year it was awarded to "Magma" by GOJIRA. The follow-up to 2012's critically acclaimed "L'Enfant Sauvage", "Magma" was one of the most hotly anticipated albums of the past twelve months and also topped Metal Hammer's end-of-year critics' poll.
EXODUS are true legends of the game. Founded in 1979 in California, they were one of the pioneers of thrash metal. A mainstay in "Greatest Thrash Metal Bands Of All Time" lists, they inspire and influence bands to this day and were rightly crowned 2017's Inspiration presented by Spinefarm Records, an award presented on the night by fellow thrash icon Mille Petrozza of KREATOR.
This year's Icon presented by uDiscover Music award went to THE DILLINGER ESCAPE PLAN. Currently on a world tour, the band announced earlier this year that they will be disbanding following their Tokyo date in October. In their 20-year career they've released six acclaimed albums and are regarded as the pioneers of mathcore.
Best International Band presented by Nuclear Blast went to AVENGED SEVENFOLD, who continue to sell out arenas around the world, pushing the boundaries of rock and metal. Best U.K. Band went to ARCHITECTS, whose 2016 album "All Our Gods Have Abandoned Us" broke the Top 15 of the U.K. charts and capped off a significant and difficult year for the band.
IRON MAIDEN's role-playing mobile game, "Legacy Of The Beast", took the Best Game accolade, with Eddie himself making an appearance via VT to collect the award.
Formed in 2015, U.K. death metallers VENOM PRISON have been making a serious impact on the scene and beyond, and they picked up Best New Band. Doom metallers PALLBEARER, who released their third album, "Heartless", in March, have received huge critical acclaim since their inception in 2008 and picked up the Best Underground award.
Once again the guitarists got the plaudits that they deserve — after all, where would music be without the incredible axemen and women we love to worship?! This year, AIRBOURNE's kamikaze guitarist Joel O'Keeffe picked up the Dimebag Darrell "Shredder" award, and tour de force Devin Townsend was rightly awarded Riff Lord presented by Century Media.
The Metal Hammer Golden Gods Awards in association with Orange Amplification winners are:
Best New Band: VENOM PRISON
Best Underground Band: PALLBEARER
Best U.K. Band: ARCHITECTS
Breakthrough Band: AVATAR
Best Live Band: MASTODON
Best International Band: AVENGED SEVENFOLD
Best Independent Label: Nuclear Blast
Dimebag Darrell "Shredder": Joel O'Keeffe (AIRBOURNE)
Best Game: "Legacy Of The Beast" by IRON MAIDEN
Riff Lord: Devin Townsend
Inspiration: EXODUS
Best Album: "Magma" by GOJIRA
Icon: THE DILLINGER ESCAPE PLAN
Defender Of The Faith: Ben Ward and Sandie Soriano
Spirit Of Hammer: PROPHETS OF RAGE
Golden God: BLACK SABBATH
And a big Hail! to Metal Hammer efforts to make Metal great!